Havoc Farm Pork Roast with Sage, Fennel and Juniper Berries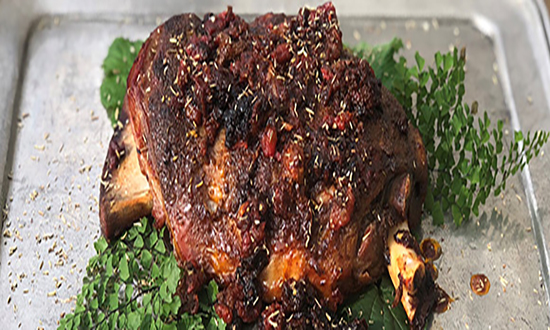 METHOD:
• Place pork roast uncovered on a plate in the fridge 24 hours before you cook. ( this allows the skin to dry and become a deep reddish colour.) perfect for crackling.
• Pre heat your oven to 230'c for 10 mins
• Remove your pork from the fridge in this time and use this time to season the skin and rub well with salt and fennel seeds .
• Place the pork into the pre heated oven on a roasting dish for 20-25 mins .( its important to salt the skin just before you pop the roasting joint into the oven as salt draws moisture )
• Removing the pork after 20-25 mins you will see the skin already starting to blister. Use this time now to remove the pork onto a chopping board to allow yourself to apply a bed of fennel and sage leaves with a good sprinkle of juniper berries. ( remembering the heat rises and that method works with flavours when cooking. The flavour will come up through the meat .)
• A good zigzag of olive oil over the fennel sage and roasting tray and place the pork back on top of your ingredients. ( crackle side up.)
• Reduce the heat of the oven to 170'c and continue to roast for a further 1 hour 35 mins .
• Remove the roasting dish from the oven and allow the roasting joint to sit and rest for a further 10-15 minutes.
• The apple sauce is advised to use to the individuals discretion but brings a beautiful sweetness to the perfume released by the fennel and sage which enhances the meat flavour.
• Slice into thin slithers and we recommend any juices from the roasting tray be added to the apple sauce to create a beautiful addition to your wonderful roast pork.