COOKING RACK OF LAMB – NICK'S TIPS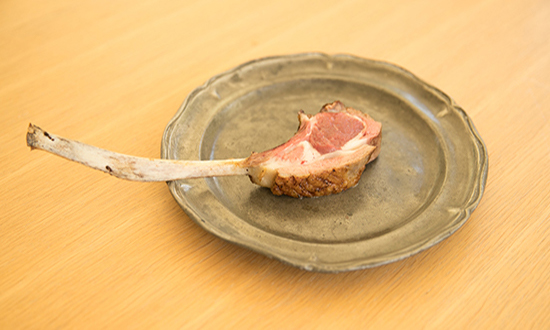 Note. We have not trimmed the bones in the video which is why they look different to the typical lamb rack you would receive from us which is frenched and nicely trimmed. We just thought we would feature an un-frenched rustic looking lamb rack because we like it that way.
Enjoy!
A Note from Nick
I would tend to think that Rack of Lamb, or Lamb French Racks are in the top 3 when it comes to butcher shop favourites. Tender juicy little rounds of absolute joy, with the convenience of a rib style lollipop. There's absolutely no waste with this product.  You get to enjoy every bite.  You can buy them most often as whole racks (8 ribs per rack) or occasionally you can buy them as separate cutlets.  It's super easy to cut the little lamb lollipops from the whole rack as they have been prepared so as to make it really easy for you to get the knife between the rib bones.
But how do you ensure your Lamb Rack turns out like the restaurant version?  How do you get it beautifully pink through out the backstrap to get maximum flavour and  tenderness ? That's the question!
With this easy guide to follow, it will make cooking these real treat items, easy-peasy every time. It's my odd way of cooking them, odd being in the numbers . ( 17 mins @ 170 degrees.)  Pre-heat your oven for 10 mins at 170 degrees to allow it to fully reach temperature. Remove your lamb from the fridge half an hour before cooking.             ( taking meat straight from a cold fridge to a hot pan or oven will affect cooking times and meat tenderness.)  While your oven is heating, you can turn your attention to the lamb in a pan. We want to pan sear the rack allowing all the juices to seal in, remaining in the eye of meat.  A super hot pan a little oil, salt and pepper is all you need. Searing till a beautiful chestnut brown colour. Do not allow to blacken.
You can then turning your attention to the 17 mins @ 170 degrees.  Removing and resting for 5-10 mins after and each and every time you will have a wonderful pink lamb rack cooked just how the chefs do it!
Note –  This week we have frozen local Hawkes Bay lamb racks on special . Usually $64.99 a kilo its now $45.99 a kilo. This week only!
Treat yourself this weekend and celebrate the beautiful season that is Autumn. Follow this easy guide to a restaurant quality dish in the comfort of your own home.
(Nick's Tip: For additional flavour, mix a teaspoon of honey, squeeze of lemon juice and  2 rosemary twigs ,leaves removed. This makes a lovely baste for the lamb rack before you pop it in the oven.) Use a sprig of Rosemary to apply the baste.
About the Cut
The cut itself consists of 6 – 8 individual ribs of tender and lean meat. The traditional lamb rack has an exterior fat cap which is the same as the rack in the video below and can be found here: bit.ly/FrenchLambRack, while the modern version has this removed and can be found here: bit.ly/MaredoLambRack. You might have heard of a Lamb French Rack before. This means the rack has its rib bones trimmed and cleaned down close to the meaty eye of the loin. Lamb racks are best served medium rare.
Recipe: How to cook a perfect Lamb Rack
How to cook a lamb rack is something we get asked about a lot. Lamb racks are not only a great looking cut but they are incredibly tender, lean, and packed with flavor. There is a common misconception that they are a tricky cut to cook but this isn't the case at all. They are incredibly simple to cook and make a real a statement when served up at the dinner table among friends and family.
Ingredients:
Gourmet Direct Rack of Lamb

Tbsp Extra Virgin Olive Oil

Sea Salt

Freshly Ground Black Pepper
1) Bring the Lamb Racks to room temperature. If it's summer – hide the racks in the microwave or somewhere the cat and the flies cannot reach them!
2) Preheat your barbecue or hotplate to 200˚C. Get the plates nice and hot and have some tinfoil (shiny paper-like stuff on a roll) handy. Preheat oven to 170°degrees
3) Score the fat cap (if there is one) with a sharp knife.
4) Instead of oiling the BBQ/hotplate we like to oil the meat. Place a good glug of olive oil onto a flat plate and season with salt and pepper. Roll the lamb rack in oil and seasoning to fully cover the lamb. Use hands to rub seasoning into all the crevices of the meat.
5) Place Lamb Racks flesh side down onto the hot plate and sear until caramelised and brown. Try not to chat to mates during this process or you will overcook the Lamb!
6) Once nicely browned, roll the racks around and sear the bottom eventually letting them sit on their bones (there will be a little tunnel of air underneath them now). Don't forget to also sear the two ends!
7) Once nicely browned transfer the rack to a pan/tray and place in pre heated oven.
8) Let roast in 170° oven for 17 minutes.
9) Once finished in oven take out and cover with tin foil to rest for 15 minutes to let juices redistribute in the meat.
10) Carve racks into individual cutlets and serve with accompanying side dishes.
11) Enjoy!