Havoc Farm Single Farm Pork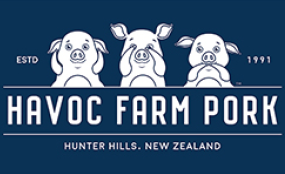 THE HAVOC STORY
Ian Jackson, a Scot by birth, was raised in England on a pig and poultry farm. He graduated from Usk Agricultural College in Wales UK, where he specialised in pigs. After working in the UK pig industry, he set off to see the world. He worked on various pig farms on his journeys until  arriving in New Zealand. All along, he was hatching plans for his own farm and formulating how he would do things when the time was right. From his experience Ian knew he was going to breed his pigs outside in the open air where they would be free to display their natural behaviour, have plenty to eat and drink, and room to frolic at will.Back at the beginning in 1991, Ian was considered a bit of an oddity to be farming his pigs outside, but he persisted and now in the South Island of New Zealand it is quite common to farm pigs.
outdoors
ETHICALLY FARMED PORK
Consumers are becoming increasingly discerning with what they buy, especially if its food. They want to know its provenance – place of origin, how it was produced and the people that produced it.Havoc Farm Pork is passionately committed to providing this through complete transparency throughout the supply chain – from Paddock to Plate.They are a family business embracing traditional British pork farming principles where animal welfare is paramount in providing quality product to cater to all contemporary culinary requirements as well as the values and ethics that are increasingly driving shopping habits.Havoc does it because that's what they have always done and are always tweaking their methods to raise New Zealand's happiest pig.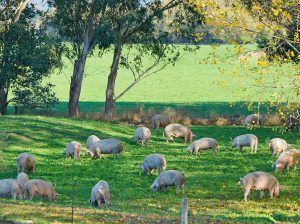 HAPPY HOGS SINCE 1991
Ian's policy has always been minimal intervention, no antibiotics, and no growth promotants – just a good old healthy diet of locally grown grain and a few added ingredients such as garlic and cider vinegar to keep the pigs happy and healthy. Ian mills all his own feed on the farm and takes pride in saying "I would not feed my pigs anything I would not eat myself".Ian takes his pigs to be turned into pork and bacon in his own specially designed truck, known as the "Havoc Hog Hauler".
This is to avoid the risk of disease from stock trucks on the farm, and minimise the shock of transportation on the pigs.
Try this delicious Mindfood recipe using Havoc Pork Shoulder. See the Havoc Pork Recipe here.
Click through to browse our beautiful selection of Havoc Pork cuts here