How to Reverse Sear a Steak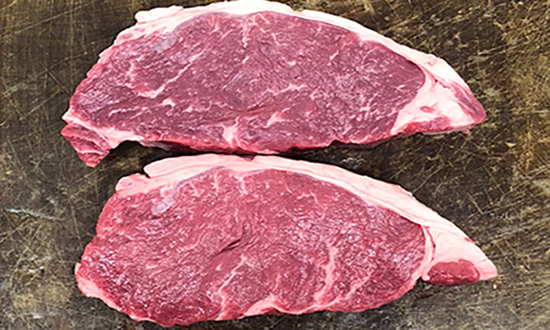 Reverse Searing Steaks
This is a great way to prep steaks to serve a crowd or even a dinner party of six.  It allows you to take the pressure off the variations of doneness preferred by your guests.
Try this method to nail the perfectly cooked steak every time.
Reverse-seared steaks start in a low oven and end in a hot pan on the stove-top. By searing at the end, you'll get tender, perfectly cooked meat with a crisp, burnished crust every time.
Method:
1. Season your thick-cut steaks.
Season your thick-cut steaks—I like ribeyes, but this will work with any thick steak—generously with salt and pepper on all sides, then place them on a wire rack set in a rimmed baking sheet. If you're cooking the steaks on a grill, skip the rack and pan.
Preheat the Oven
Preheat the oven to anywhere between  93 and 135°C. The lower you go, the more evenly the meat will cook, though it'll also take longer.
Slow-Cook the Steak
Place the steaks—baking sheet, rack, and all—in the oven, and roast until they hit a temperature about 10 to 15°C below the final temperature at which you'd like to serve the meat. A good thermometer is absolutely essential for this process.
Sear the Steak
Just before the steaks come out of the oven, add a tablespoon of vegetable oil or other high-temp-friendly oil to a heavy skillet, then set it to preheat over your strongest burner. Cast iron works great,
As soon as that oil starts smoking, add the steaks along with a tablespoon of butter, and let them cook, swirling and lifting occasionally, until they're nicely browned on the first side. This should take about 45 seconds. Flip the steaks and get the second side, then hold the steaks sideways to sear their edges.
To Serve
Serve the steaks immediately if you'd like, but better to let them rest for a minute or two, then enjoy. With reverse-seared steaks, there's less need to rest your meat, as you would with a more traditional cooking method.
We like to serve our steaks with Mandy's Horseradish which provides a hot tangy bite that cuts through the richness of the beef. You can buy this tasty condiment here: bit.ly/31BDCB9
Recipe credit: https://www.seriouseats.com/2017/03/how-to-reverse-sear-best-way-to-cook-steak.html