Bayden's Beef Short Ribs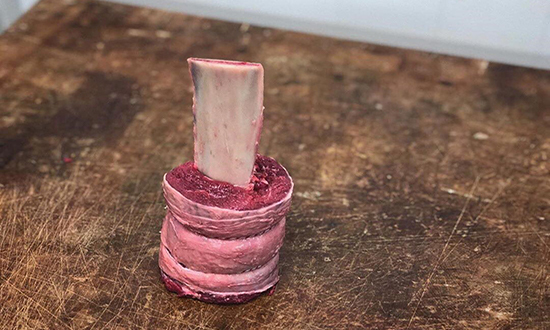 Beef short rib recipe 
Ingredients
1 tbs. vegetable oil
6 whole beef ribs
2 onions, sliced
4cm piece of ginger sliced
½ bunch of coriander, stems and roots included
1 cinnamon stick
2 star anise
4 cloves garlic, peeled and sliced
2 tbs. soy sauce
½ cup hoisin sauce
1 tbs. Soft Brown Sugar
1 litre of chicken stock
Method
1. Preheat the oven to 130C.
2. In a large sauté pan over high heat add oil and sear the beef ribs all over until browned. Remove from the pan.
3. Add the onions, ginger, finely chopped coriander roots and stalks, cinnamon stick and star anise and garlic & Cook for 8-10 minutes over a medium heat until the onions are soft and starting to caramelise.
4. Return the meat back to the pan along with hoisin, brown sugar and bring to the boil.
5. Cover with a well fitting lid & cook in the oven for 4 – 5 ½ hours or until the meat is almost falling off the bone.
6. Remove the meat and place in a shallow platter and keep warm in oven.
7. Place the pan back on the heat and simmer to reduce for 3-4 minutes, skimming off any excess fat that has come to the surface.
8. Pour the thickened sauce over the meat and garnish with coriander leaves, spring onions.