Lamb Loin Fillets with Flatbread and Lentil Salad
Cooking Method:

Braising

Difficulty:

easy
1 pack Silver Fern Farms Lamb Loin Fillets
A sprig of fresh flat-leaf parsley, torn
10-12 fresh mint leaves
½ small red onion, thinly sliced
A handful of baby spinach leaves
A handful of mixed green salad leaves
2-3 tbsp of pomegranate arils
2 x wholemeal Lebanese flatbreads
Sumac
Lentils:
300g French puy lentils
Water
2 clove garlic, unpeeled
Parsley stem and a small piece of carrot
3 tbsp red wine vinegar
1 tsp sesame oil
3 tbsp soy sauce
Pomegranate Vinaigrette:
2 tbsp pomegranate molasses
1 tbsp red wine vinegar
1 tbsp Dijon mustard
1 tsp runny honey
1/3 cup olive oil
Greek Yoghurt:
1 cup Greek yoghurt
½ clove garlic, crushed
1 tsp lemon juice
To prepare the Greek yoghurt, in a small bowl, stir together the yoghurt, garlic, lemon juice, salt and pepper. Check seasoning add more lemon juice or salt as needed and store in refrigerator until required.
For the lentils, rinse the lentils well. Add to a pot with enough water to cover completely, also adding the two garlic cloves, parsley root and piece of carrot for sweetness and flavour. Simmer over medium heat until the lentils are al dente – around 18-20 minutes. Drain, remove the parsley, carrot, set the garlic aside, and dress lentils with ¼ cup olive oil, the sesame oil, red wine vinegar, soy sauce and salt and pepper whilst still warm. Stir to combine and set aside to cool. Check seasoning prior to serving, you may need a little more salt or some sourness from an extra sprinkle of vinegar.
Remove the Silver Fern Farms Lamb Loin Fillets from the packaging, cover and bring to room temperature. Rub oil over the lamb and season with salt and pepper. Cook in a grill pan or BBQ on medium-high for 3-4 minutes on each side for medium-rare. Transfer to a plate, cover, and rest for 5 minutes. While the lamb is resting, on the same pan or BBQ grill, toast the flatbreads to char them slightly on each side.
To prepare the vinaigrette, squeeze the flesh from the cooked garlic cloves and in a small bowl whisk together with the mustard, pomegranate molasses, honey, olive oil and vinegar. Season to taste with salt & pepper.
Just before serving, sprinkle the Greek yogurt with sumac and drizzle with a little olive oil. Toss together the lentils with the salad leaves, mint, parsley and red onion. Assemble on a plate and sprinkle with pomegranate arils. Slice the lamb across the grain and place on the top, drizzle with a little of the vinaigrette. Serve with the warm grilled flatbreads.
Recipe supplied by Silver Fern Farms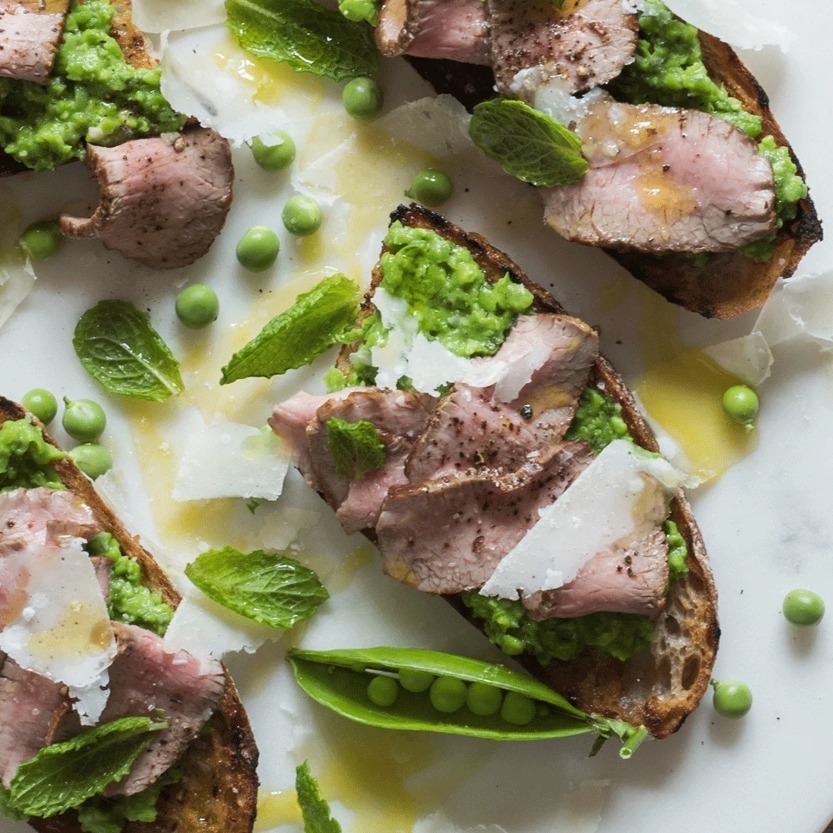 SERVES: 8
Difficulty: easy
SERVES: 6
Difficulty: easy
SERVES: 4
Difficulty: easy