Founders Extra Virgin Olive Oil 1L
This versatile olive oil tastes great over just about anything and is especially good over pasta, warm bread and cooked vegetables, or stirred through risottos, soups or salads.
A must for domestic and working kitchens.
Garlic-infused to add the flavour of garlic without the bitterness on the food or breath.
PRODUCT SPECIFICATION
Price Per KG: $29.95
Approximate Weight: 1kg

$29.95/each
Out of stock
1 litre of Cold Pressed Extra Virgin Olive Oil
Product of New Zealand.
---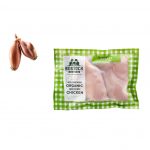 Organic Boneless Chicken Breasts
Free Range and plump these chicken breasts are the best flavour you'll find. Bostocks free range, organic chicken is Certified Organic under the Agriquality Organic System.
Boneless, skin off. Product may be sold frozen.
2 Breasts per pack.
No nutrition information for this product..!