Rose Veal Boneless Shoulder 2 for 1 Deal
Limited offer:
Buy one and get two, while stocks last. 
Beautiful boneless Rose Veal Shoulder – two for the price of one for a limited time.
Product is sold frozen.
PRODUCT SPECIFICATION
Serves Per Pack: 6
Pieces Per Pack: 2
Approximate Weight: 1.8kg

$29.95/each
No Recipe associated with this product..!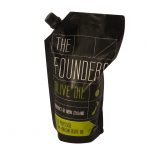 Founders Extra Virgin Olive Oil 1L
This versatile olive oil tastes great over just about anything and is especially good over pasta, warm bread and cooked vegetables, or stirred through risottos, soups or salads.
A must for domestic and working kitchens.
Garlic-infused to add the flavour of garlic without the bitterness on the food or breath.
Out of stock
No nutrition information for this product..!