East Kitchen Tom Yum Sauce Mix
Tom Yum is a tangy, hot & spicy sauce, and this one is nice and creamy.
This product is currently out of stock and will return in October!
PRODUCT SPECIFICATION
Serves Per Pack: 2-3
Pieces Per Pack: 1
Approximate Weight: 61grams

$5.95/each
No Recipe associated with this product..!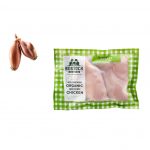 Organic Boneless Chicken Breasts
Free Range and plump these chicken breasts are the best flavour you'll find. Bostocks free range, organic chicken is Certified Organic under the Agriquality Organic System.
Boneless, skin off. Product may be sold frozen.
2 Breasts per pack.
No nutrition information for this product..!