Whole Twice Cooked Duck with Merry Cherry Jus & Citrus Stuffing
Preparation Time:

10 mins

Serves:

4

Cooking Time:

145 mins

Ready Time:

155 mins

Difficulty:

Easy
(Recipe is for farmed Duck)
1 x Whole Bone In 2.3kg Duck
1 Tbsp NZ Flakey Sea Salt
Juice of One Lemon
Carrots to trivet and water to steam
Stuffing:
1 x small Lemon – halved – skin left on
2 x medium carrots, cleaned and chunked
3 x small Apples cored and chunked – skin left on
1 x medium white Onion – chunked and peeled
6 x cloves fresh Garlic
Bunch fresh herbs – Sage, Rocket, Parsley
Jus:
100mls Verjuice
100mls Orange Juice
1 Tbsp soft Brown Sugar
1 x 300gm pot of Very Merry Cherries
Method:
Defrost the Duck in the fridge allowing two days from frozen. Remove the Duck from the fridge at least half an hour before you need it to allow the temperature to rise.
Set your oven at 200 C.
Place all the stuffing ingredients in a blender and pulse until a coarse texture is achieved. Season to taste and set aside.
Remove Duck from it's packaging and wash it inside and out with clean water then pat dry with paper towels. Trim the neck, wing tips and any excess fat from the cavity and feed to the cat!
With a sharp skewer, prick the skin of the Duck all over to allow fat to escape during cooking. Rub the duck inside and out with Sea Salt. (Optional: At this point you can brown the Duck all over gently in a little butter and oil in a pan over medium heat. Take care not to break the skin.)
Stuff the Duck with the Stuffing mixture and truss up the cavity with cooking string. If you don't have enough stuffing to fill the cavity, fill the gap with a whole lemon or a small apple.
Place the Duck on top of sliced carrot chunks in a deep casserole and pour sufficient warm water around it to come half way up the sides of the Duck. Cover and cook at 200 C for an hour and a half – at which time the Duck is pretty well cooked through. The wing bones will fall off.
Drain all but 100mls of the water and discard. Retain the carrot and set aside to finish in the oven. (You have now removed a considerable amount of the Duck Fat from your dish)
Return the bird, breast side up, to the casserole with the remaining 100mls of water – continue to cook for a further 20 minutes. Check the skin which will now be starting to brown and the water will have largely disappeared. Turn the bird on its side and cook for a further 20 minutes keeping an eye on the skin to ensure it does not burn. Remove from the casserole dish and rest for 15 minutes in a warm place.
While the Duck finishes in the oven, reduce 100mls of Verjuice, 100 mls Orange Juice and the juice of a 300gm pot of Very Merry Cherries (Reserve the Cherries to add at the last minute to warm through), plus 1 Tbsp soft brown sugar to a syrupy jus. Once the Duck is resting, add this syrup to the pan juices in the Casserole dish, stir, add in the reserved Cherries and season to taste. Julia would add a tsp butter here to "finish" the sauce properly however if you are watching your weight, I don't think it's totally necessary. We don't all have her constitution! Pour over sliced Duck.
Serve with roast potatoes cooked with a little rendered Duck fat , roast carrot and seasonal green vegetables.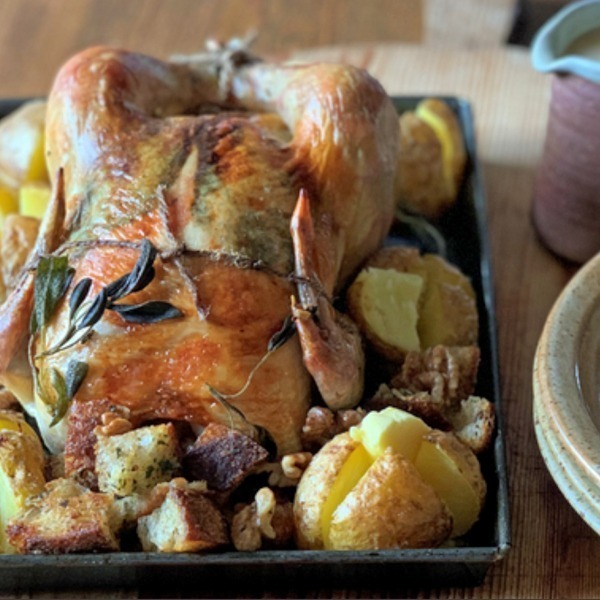 SERVES: 6
Difficulty: easy
SERVES: 4-5
Difficulty: easy
SERVES: 4-6
Difficulty: easy