Verjuice Poached Chicken & White Peach Salad
Preparation Time:

10 mins

Serves:

4

Cooking Time:

22 mins

Ready Time:

32 mins

Difficulty:

Easy
2 free range chicken breasts
1 bayleaf
2 sprigs fresh thyme
2 sprigs flat leaf parsely
4 black peppercorns
200ml verjuice
4 white flesh peaches, stoned and sliced
1 ripe avocado, halves, stoned, peeled and sliced thickly
½ red onion, peeled and thinly sliced
Salad greens
1 tablespoon red wine vinegar
1 tablespoon pomegranate juice
3-4 tablespoons extra virgin olive oil
2 tsp soft brown sugar
Salt, pepper
Method
Place verjuice, bayleaf, peppercorns and herbs in a large, deep frying pan and bring to the boil, then simmer for 3 minutes. Add chicken and simmer over very low heat for 10 minutes or until chicken is just tender. Remove pan from heat and stand, covered, for 12 minutes.
Remove chicken with a slotted spoon, discard cooking liquid, then cool slightly and tear into bite-sized pieces.
Whisk dressing ingredients and adjust seasoning to taste.
Place salad leaves in a large shallow bowl, add majority of dressing, and toss to combine. Place onto serving plate and top with peaches, avocado, red onion and chicken, Drizzle remaining dressing over top.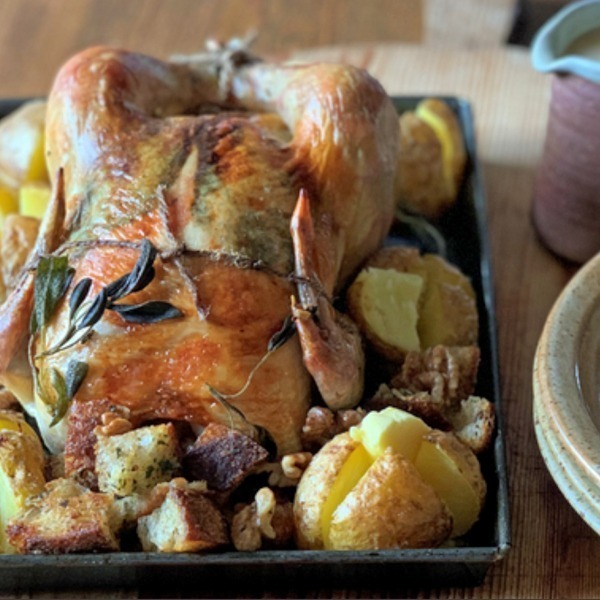 SERVES: 6
Difficulty: easy
SERVES: 4-5
Difficulty: easy
SERVES: 4-6
Difficulty: easy