Traditional Stuffed Turkey with Hazelnut Butter
Preparation Time:

20 mins

Serves:

6

Cooking Time:

180 mins

Ready Time:

200 mins

Cooking Method:

Roasting

Difficulty:

easy
Traditional Stuffed Turkey with Hazelnut Butter This is a recipe from a beautiful American friend of my mothers and it is their recipe for Thanksgiving turkey but my family has adopted it as our traditional christmas turkey. It is delicious and you can adapt it to use a boneless turkey which I will be doing two of this year for feeding the family
INGREDIENTS
4.5kg turkey
½ cup water
Oil
HAZELNUT BUTTER
185g butter
2cloves garlic crushed
2 Tablespoons chopped parsley
¼ cup chopped roasted & skinned hazelnuts
Beat butter till smooth and add all ingredients to combine then gently separate skin from meat and push butter under skin including the breast and legs.
STUFFING
1/3 cup chopped dried apricots 2 cups breadcrumbs
30g butter 1 apple grated ¼ cup chop parsley
2 Tablespoons sherry 1 teaspoon dried thyme
500g sausage mince 1 onion finely chopped
2 sticks celery finely sliced
Cover apricots with water and bring to boil and then simmer 5 minutes and set aside. Melt butter in pan and add onion, celery and apple. Cook 2 minutes and add apricots and sherry then add mince and cook stirring till it changes colour. Add last of ingredients and mix well.
SAUCE
4 cups water 1 bayleaf
Few peppercorns ¼ cup plain flour
1 sliced onion ¼ cup sherry
½ cup cranberry sauce remove neck and giblets and keep
Rinse and pat the turkey dry inside and out. Do butter recipe and put under skin and stuffing and fill turkey. Tuck wings under body. Put giblets, neck, bayleaf, onion and water into pot and bring to the boil and simmer for 1 hour strain and reserve stock for sauce. Remove turkey when cooked and drain fat from dish then mix flour to pan and stir adding 2 1/2cup stock, sherry, cranberry sauce and simmer till smooth and thickened. Slice turkey and serve.
NOTE cooking times for turkey per every 500g is 20 minutes @ 180g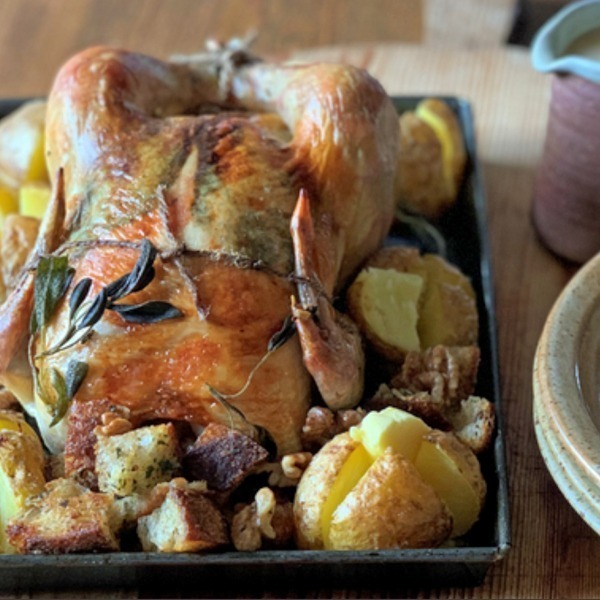 SERVES: 6
Difficulty: easy
SERVES: 4-5
Difficulty: easy
SERVES: 4-6
Difficulty: easy