Summer Duck with Figs
Preparation Time:

10 mins

Serves:

4

Cooking Time:

70 mins

Ready Time:

80 mins

Difficulty:

Easy
One of my favourite duck recipes from the Silver Spoon cookbook (Italy's equivalent to our legendary Edmond's Cookbook)
Once the first crop of the season's figs are ready on my tree, I pull out this recipe. Enjoy!
Pia
Ingredients
1x Whole Duck +Duck Liver
100gm butter
1 Tbsp olive oil
250ml red wine
2.5kg fresh figs
1/2 loaf ciabatta/sourdough sliced
1 lemon – juiced
Preheat the oven to 230 degrees. Set aside liver. Season duck cavity with salt and pepper and truss duck. Place duck in roasting dish and add oil 10gm of butter.
Roast for 1 hour and remove from oven and lower temperature 200 degrees. Cut off wings, breast, and legs and set aside. Smash up carcass with a meat mallet and stir into roasting dish with red wine and cook for 10 mins.
Remove from oven. Press cooking juices through a sieve into a saucepan and add lemon juice. Chop liver and add to sauce and simmer on low heat.
Cut figs almost in half and fan open. Grease roasting dish with butter and add figs with a small piece of butter in each fig and cook in oven until lightly browned.
Remove from oven and season with salt and pepper. Melt remaining butter in a fry pan and add slices of bread and cook both sides until browned. Remove.
Carve legs, and breasts into slices. Assemble on a warm serving platter. Bread 1st and then arrange figs and duck pieces on top and spoon over sauce.
Delicious!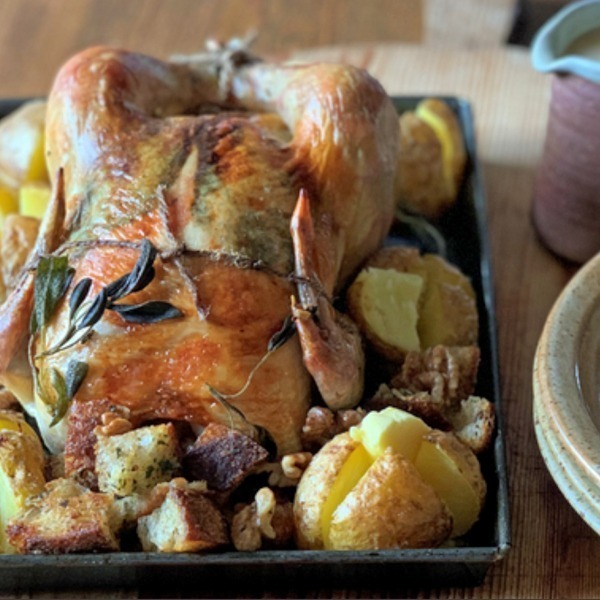 SERVES: 6
Difficulty: easy
SERVES: 4-5
Difficulty: easy
SERVES: 4-6
Difficulty: easy