Scottiglia a la King
Preparation Time:

35 mins

Serves:

6

Cooking Time:

180 mins

Ready Time:

215 mins

Difficulty:

Easy
1.3 kg Pork Belly – cut into thick slices
1.2kg Rose Veal Osso Bucco
2pkts (approx 600gm) Duck Legs
100gm Delbos Pancetta slices cut in half
3 medium Red Onions
3 large sticks Celery – heads topped and kept and slice stalks into 1cm chunks
5 small carrots peeled and sliced into ½ cm rounds
5 cloves fresh Garlic – peeled and diced
1 medium dried Chilli – finely crumbled
4 dried Bay leaves
1 handful fresh Parsley
1 ½ kg chopped tinned tomatoes
Olive Oil
2 Tbsp Balsamic Vinegar
2 small glasses good red wine
½ small glass Marsala wine
100gms Veal Glaze dissolved in 500mls hot water
Salt and fresh black pepper
Method:
Set your oven temp to 125°C. Choose a large deep covered oven dish.
Dry the sliced Pork Belly slices with a paper towel. Heat a little Olive oil in a medium hot fry pan. Sear the Pork all over to brown and to render a little fat from the skin. Place Pork in oven dish.
Quickly sear off the Red Onion and reserve with the Pork.
Reduce the heat slightly. Add the Osso bucco and brown gently on both sides. Add to the Pork.
Add the whole celery head to the oven dish and generously grind fresh pepper over the top.
Add half the tomatoes to the oven dish. Sprinkle generously with Salt.
Add a little extra olive oil to the frying pan if necessary and sear off the Celery and the Garlic. Add to the meat.
Sear off the Duck pieces to brown. Add to the meat dish.
Add the carrots to the frypan and sear off for 2 minutes before reducing the heat and adding the Balsamic Vinegar to deglaze the pan. Pour everything into the meat dish.
Take the Pancetta and place the pieces all over the top of the meat in the oven dish.
Pour the wine, stock, Bay leaves into the frypan and heat to reduce by one quarter. Add the tomatoes and cook for about 15 minutes before pouring everything over the meat.
Chop one third of the Parsley including all the stalks and sprinkle over the meat.
Cover the dish and place in slow oven for 4 hours. The meat will be falling off the bone and the liquid will have formed a delicious liquor – not too thick but not too thin either. Should be perfect for mopping up with your favourite Italian bread. Allow the dish to rest before beginning to serve it.
Traditionally, you would serve Scottiglia poured over crispy Italian garlic bread in a bowl.
This dish will only improve if prepared a day or two in advance.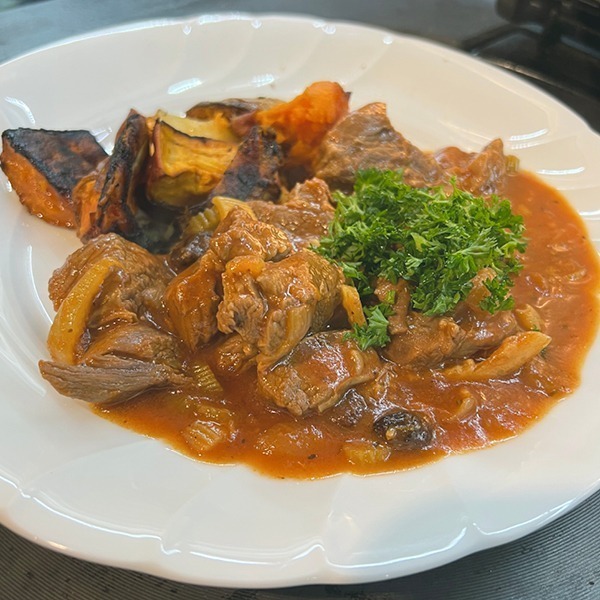 SERVES: 6
Difficulty: easy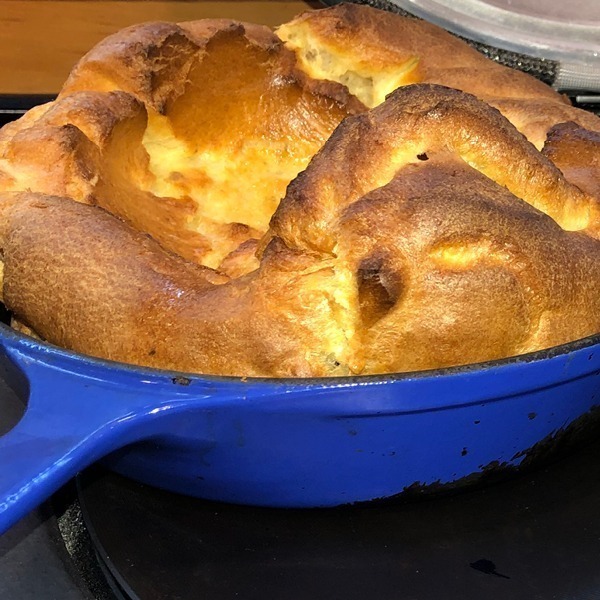 SERVES: 2-4
Difficulty: easy