Rustic Duck Liver Pâté Recipe
Preparation Time:

15 mins

Serves:

6

Cooking Time:

60 mins

Ready Time:

75 mins

Difficulty:

Easy
Timothy Lynch, Head Chef, Larnach Castle, Dunedin
Ingredients
400gm Duck Liver (marinated in salted milk 8 hrs)
100ml Madeira
100ml Port
50ml Cognac
1/2 Onion
4 sprigs Thyme
1 clove Garlic (green core removed)
400gm unsalted Butter
1 teaspoon Salt
6 Eggs Method
Boil Madeira, Port, Cognac, Garlic,Thyme and Onion for 30seconds (this will burn off the bitter alcohol) and allow to cool. Melt butter and allow to cool to room temperature (so it is still in liquid form). Strain the alcohol mixture, discarding the Onion & Thyme and blend together with the marinated Liver. Slowly begin to pour in the cool melted Butter (as you would for Mayo) and Eggs then the Salt. Pour the mixture through a fine sieve into terrine moulds (or loaf tins), cover with grease proof paper and tin foil then lid. Fold two tea towels in half and place in the bottom of a roasting tray, place the terrine on top and fill 3/4 of the way up with water. Place in a 150oC oven for approximately 40-45 min (if you can, use a temperature probe to check the core temperature which should be 65 oC -70 oC), allow to cool and then seal the top with clarified butter and leave in the fridge over night.
Serve with toasted Sour-Dough and chutney.
A simpler way to get a similar taste, is to saute the (marinated) Livers with Onion and Garlic, add the Port, Madeira and Cognac, simmer (if possible set fire to it), add a splash of cream, and then reduce to a sauce. Add freshly ground Pepper, Salt and fresh Thyme sprigs, and serve hot on top of toasted Sour-Dough or Brioche.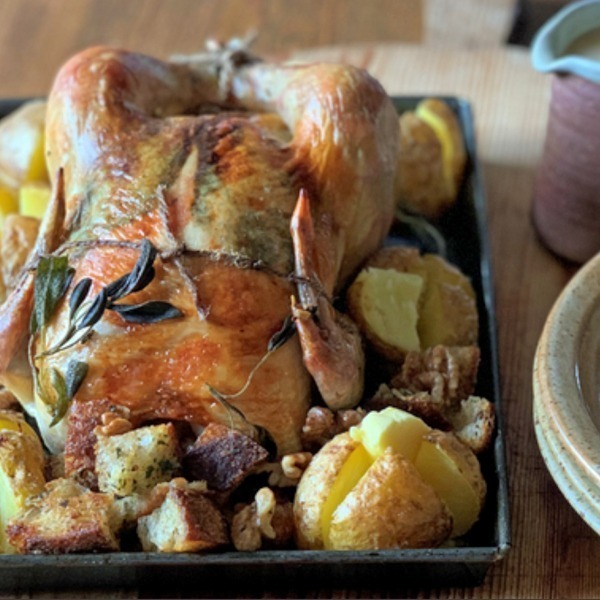 SERVES: 6
Difficulty: easy
SERVES: 4-5
Difficulty: easy
SERVES: 4-6
Difficulty: easy