Roasted Duck and Chilli Pickled Pear Salad
Preparation Time:

10 mins

Serves:

4

Cooking Time:

20 mins

Ready Time:

30 mins

Difficulty:

Easy
4 x Gourmet Direct Duck breasts
Dry Rub:
1 garlic clove chopped
1 tsp fennel seeds
1 tsp coriander seeds
1 small red chilli (optional)
1 clove
1 tsp black peppercorns
(Grind all spices in a pestle and mortar or spice grinder)
Salad:
100g roasted, skinned hazelnuts roughly chopped
100g mesclun salad leaves
150g Chilli Pickled Pears, sliced
Dressing:
90ml hazelnut or walnut oil
50ml syrup from the Chilli Pickled Pears
Salt & white pepper to taste
Method:
Preheat the oven to 180*C.
Trim and score the Duck Breasts . Season with the rub, and leave to sit, covered, at room temperature for 30 minutes.
Sear the breasts by placing in hot frying pan (with the skin side down), for two minutes each side.
Finish cooking the breasts in the oven for about 6-8 minutes, then cool.
To Assemble:
Make a nest of the mesclun, arrange pear slices around this, then sprinkle the hazelnuts over the pears. Slice each duck breast on an angle into 5, then arrange on top of the mesclun. Drizzle with the dressing just before serving.
Serves 4.
Recipe kindly supplied by Aromatics Ltd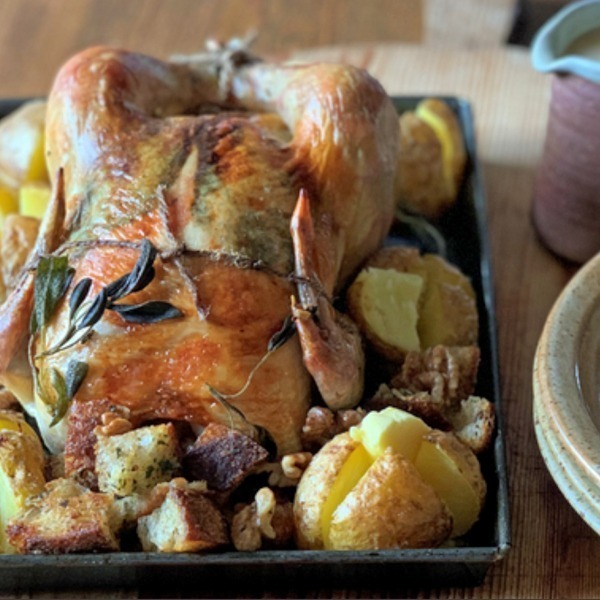 SERVES: 6
Difficulty: easy
SERVES: 4-5
Difficulty: easy
SERVES: 4-6
Difficulty: easy