Moroccan Spaghetti with Popcorn Chicken
Preparation Time:

15 mins

Serves:

4

Cooking Time:

30 mins

Ready Time:

45 mins

Cooking Method:

Searing

Difficulty:

easy
300 gm spaghetti pasta
3 Tbsp Pepper & Me Moroccan paste
2 lemons
⅓ cup yoghurt, plain
5-600 gm chicken
1 ½ cups Pepper & Me Moroccan Dukkah Crumb
3 garlic cloves, crushed
1 cup chicken stock
⅓ cup parmesan
50 gm butter
1 small bunch parsley
Oil for shallow frying
Cut the chicken into 1cm thick strips then again into bite-sized cubes
In a large bowl mix 2 Tbsp of Moroccan paste, the rind of one lemon and yoghurt. Stir through the chopped chicken, coating all of the pieces.
Pop aside to marinate while you prepare the other ingredients
Put the dukkah crumb into a large shallow bowl or container.
Bring a large pot of water to the boil, add in 1 teaspoon man grind and spaghetti, once the spaghetti is al dente drain in a colander.
Dip the marinated chicken pieces in the crumb mixture and place them on a large plate ready for frying.
In a large frypan, heat up the oil and start cooking the crumb chicken pieces in batches until cooked through. Remove all cooked chicken pieces from the pan onto a paper towel-lined plate.
Wipe out the pan and add some more oil back in.
Add the garlic and cook until golden, then add in the remaining 1 Tbsp Moroccan paste, butter, and stock, stirring until the sauce reduces a little.
Add the cooked spaghetti to the Moroccan sauce stirring through.
TO SERVE
Serve the pasta up with spaghetti, popcorn chicken sprinkled over with a good sprinkling of parmesan, man grind, and parsley.
Serve with lemon wedges on the side.
CHEF'S TIP
You can add grated courgette and/or baby spinach, when in season, to the Garlic Moroccan Sauce.
Recipe supplied by Pepper and Me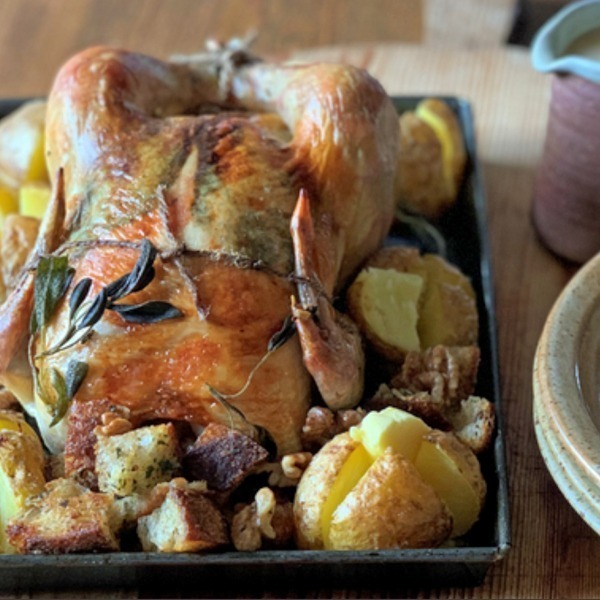 SERVES: 6
Difficulty: easy
SERVES: 4-5
Difficulty: easy
SERVES: 4-6
Difficulty: easy