Moroccan Chicken Lasagne
Preparation Time:

30 mins

Serves:

6

Cooking Time:

70 mins

Ready Time:

100 mins

Cooking Method:

Slow Cook

Difficulty:

easy
CARAMELISED ONIONS
30 g butter
2 onions
2 Tbsp brown sugar
2 Tbsp balsamic vinegar
1 heaped tsp italian stallion
FILLING
400gm pumpkin
600gm chicken
2 cloves garlic, crushed
1 cup chicken stock
Tbsp Pepper & Me Mo'rocckin Paste
1 tsp Italian Stallion herb blend
Pepper & Me Man Grind
150gm baby spinach
375gm box lasagne sheets
CHEESE MIX
500 g ricotta
1 cup mozzarella
2 cups tasty cheese, leave aside some for the top
Preheat the oven to 200°C on bake.
While the oven is heating up, thinly slice the onions and pop aside, dice the pumpkin into 2cm cubes and cut the chicken into bite sized pieces.
Place the diced pumpkin in an oiled oven tray and bake until semi soft.
In a fry pan over medium heat add butter, start cooking down the onions until they start to soften then add in the brown sugar, balsamic vinegar and Italian Stallion herb blend.
Once the onions have caramelised, remove from the pan and place on a plate to cool.
Add the chicken into the fry pan, quickly sear on both sides then add in the Mo'rocckin Paste coating it all over the chicken. Add the chicken stock, stir through the baby spinach and season with man grind. The chicken doesn't need to be cooked through as it will finish cooking in the oven.
Add the pumpkin in with the chicken mixture.
In a large bowl combine the cheese mix ingredients.
To assemble the lasagne, place a layer of lasagne sheets in a large oiled baking dish. Top with the wet chicken mixture, cheese mixture and caramelised onions then repeat until all the ingredients have been used up.
Top the lasagna with the remaining cheese, cover in tinfoil and cook for 1 hour.
Remove tin foil and return to the oven for another 10 minutes to brown on top.
RECIPE NOTES
If you don't have ricotta you can substitute for a classic cheese sauce using the cheese mentioned.
Recipe supplied by Pepper and Me.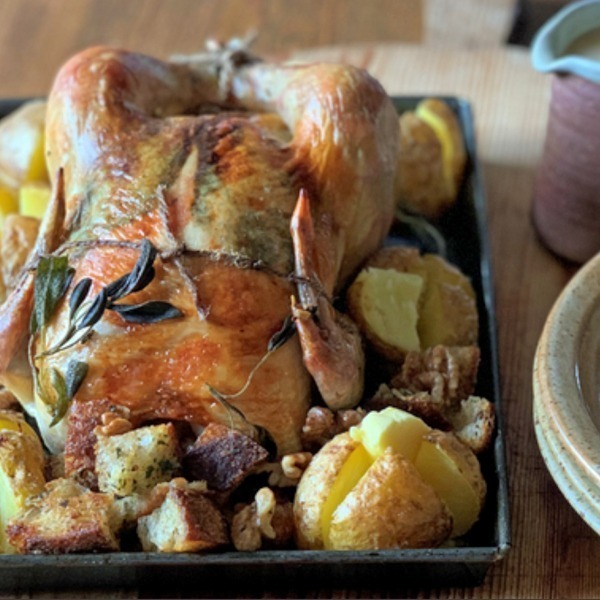 SERVES: 6
Difficulty: easy
SERVES: 4-5
Difficulty: easy
SERVES: 4-6
Difficulty: easy