Lazy Summer Barbecued Beef Shortribs
Other Ingredients:
3 kg Gourmet Direct Beef Shortribs
500mlTomato puree
1.5 L Water
1 Bulb of garlic, peeled and coarsely chopped
12 Black peppercorns
2 Bay leaves
3 Sprigs of thyme
3 Sprigs of rosemary
1 Onion, coarsely chopped
1 Carrot, coarsely chopped
1 Leek, coarsely chopped
1 Celery, coarsely chopped
100ml Soya oil
2 Cups of flour
This recipe is kindly provided by award winning Chef Jeremy Rameka of Napier's Pacifica Restaurant.
You may prepare the ribs a day in advanced and leave them covered in the refrigerator over night. Then reheat them on the BBQ or in the oven with your favourite sauce the day they are to be served. Otherwise, you can eat them straight out of the oven, beautifully braised.
Remember that the meat will shrink on the bone as it cooks. Each person will eat between 2 and 4 ribs. You will need a frying pan, sauce pan, deep roasting dish, and large baking tray to braise the beef ribs. All of the ribs must fit on the baking tray and in the roasting dish.
Method:
Preheat your oven to 120*C.  Cut the ribs apart with a sharp flat edged knife and set aside.
Cook the carrots in a covered frying pan with 4 tablespoons of soya oil on medium heat for 2 minutes. Uncover and add the onions, leek, and celery.  Sauté these vegetables until browned. Transfer the vegetables into a deep roasting dish.
Heat the tomato puree and water in your sauce pan until they boil. Then add this liquid, the black peppercorns, bay leaves, thyme, and rosemary to the roasting dish.
Sprinkle a bit of flour on a cooking tray to hold the ribs until you are ready to cook them.
Place the remainder of the flour on your bench top. Coat both sides of each rib with flour and then place them on the baking tray.
Heat 4 table spoons of soya oil in a frying pan. Once hot, add a rib and quickly cook it on each side just for about a minute (until brown) to seal in the flavour. Then transfer the rib into the roasting tray.
Repeat with each rib. Only add more oil if you need for each rib to brown properly.
Once all of the ribs are sealed and in the roasting dish the liquid should cover the meat completely. If you need to add a bit of liquid, you can add more hot water or some red wine. Either way, the ribs must be submerged for the braising to work.
Cover the roasting dish with aluminum foil and place in the oven for 5-6 hours at 130*C.
Ribs should be soft to the touch when they are ready. You can eat them straight away or stick them in the refrigerator over night.
For an authentic BBQ flavour: reheat the ribs on a moderately hot bbq. Once they are hot again, you can brush each with smoky bbq sauce, peanut sauce, chilli and lime sauce . . . what ever tickles your fancy.
We recommend serving these ribs with a fresh garden salad, baked potatoes, and bbq'd corn. Corn can be placed in aluminum foil with a knob of butter and put directly on the bbq. It will only take 3-5 minutes for the corn to steam cook on the bbq. Potatoes can be cooked a similar way, but take about 10-15 minutes in foil on the bbq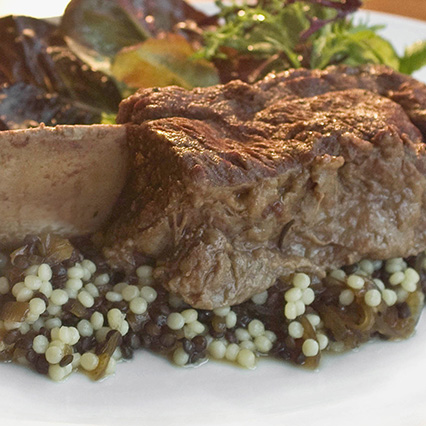 Please note packs may range in weight from 3–4 kg Supplied by Silver Fern Farms
SERVES: 3-4
Difficulty: easy