Lamb Rumps with Herbed Peanut Pesto Recipe
Preparation Time:

10 mins

Serves:

4

Cooking Time:

10 mins

Ready Time:

20 mins

Difficulty:

Easy
1 x 700gm Gourmet Direct Lamb Rumps
Oil to brown
Seasoning
Coriander and Peanut Pesto
1 cup Peanut Oil
40g Raw Blanched Peanuts
2 Green Chillies, minced
1 Tbsp Freshly Minced Ginger
4 Cloves Garlic, minced
Bunch Basil leaves
Bunch Coriander leaves
25g Mint leaves
1 tsp shaved Palm Sugar
2 tsp Fish Sauce
1 Tbsp Lime Juice
Garnish
Crispy Fried Leek
Method:
Heat a large sauté pan with Vegetable Oil. Season the Lamb on both sides then brown well in the Oil. Place on an oven tray and bake to just under done (10-15 minutes).
Coriander and Peanut Pesto
Heat the Oil over medium heat add the Peanuts and cook until golden. Strain the Peanuts from the oil. Retain the Oil and cool. Blend the Peanuts in a food processor with the Chilli, Ginger and Garlic. Add the Herbs and half the reserved Oil and blend to form a smooth paste. Add the Sugar, Fish Sauce and Lime Juice and blend until the Herbs are finely minced. Gradually pour in the remaining Oil.
Spoon a pool of Pesto into the centre of your serving plate. Thinly slice the Lamb Rump and place over the Pesto. Serve with fresh Tomato Sauce or your favourite Meat Jus. Top with Crispy Fried Leek. Serve immediately.
Serves 6
SERVES: 2
Difficulty: easy
SERVES: 3-4
Difficulty: moderate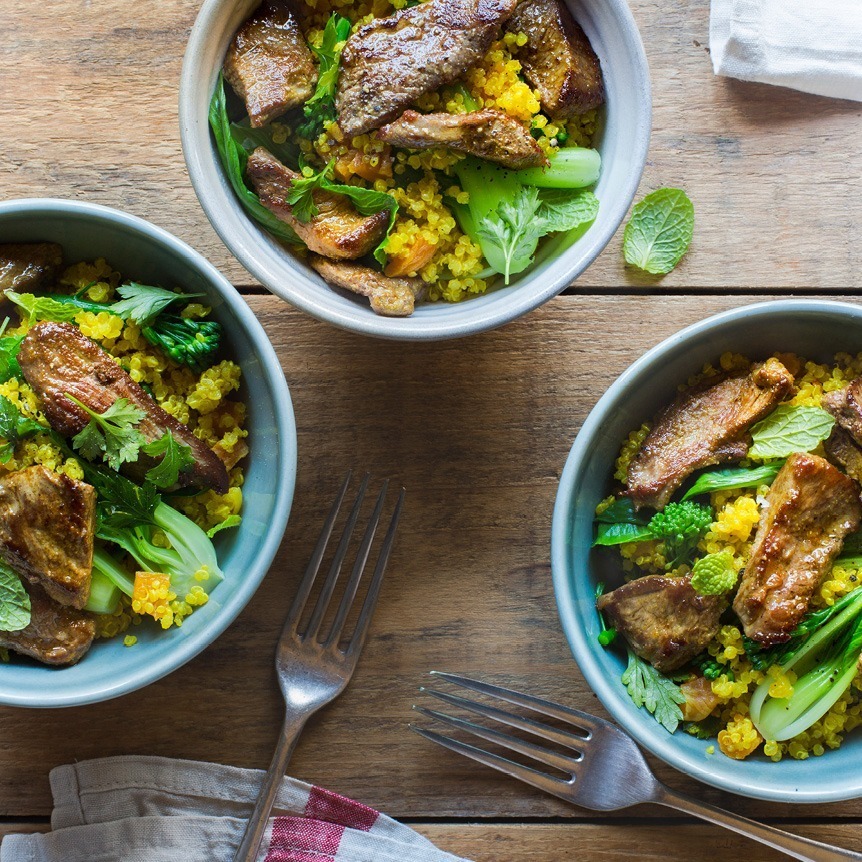 SERVES: 3-4
Difficulty: easy