Lamb French Rack with Goat Cheese Crust
Preparation Time:

5 mins

Serves:

4

Cooking Time:

30 mins

Ready Time:

35 mins

Difficulty:

Easy
Ingredients
GOAT CHEESE CRUST:
* ½ C Over the Moon fresh goat cheese (softened)
* ¼ C fresh breadcrumbs
* 1 tbsp minced garlic
* 1 tbsp minced fresh rosemary
* 1 lg egg yolk, lightly beaten
* 1 tsp salt
* generous heaped tbsp of plain Over the Moon Romano
* 1 tsp ground black pepper
LAMB:
* 2 tbsp extra virgin olive oil
* 1 x Gourmet Direct French Lamb Rack
* salt and freshly ground black pepper
* 4 sprigs of rosemary for garnish
Method
Preheat the oven to 235°C.
For the goat cheese crust, place the cheese, one tablespoon of the breadcrumbs, the garlic, rosemary, egg yolk and salt together in a small bowl and blend.
Combine the remaining breadcrumbs, the pecorino and pepper in another small bowl. Set aside.
Rub the oil over the meat and season with salt and pepper. Place the lamb on a rack in a shallow baking pan and broil each side for five minutes or until a meat thermometer inserted into the thickest part of the meat reads 40°C. Remove from the oven and reduce the temperature to 210°C.
Coat the top of the rack of lamb with the cheese mixture. Pat the breadcrumb mixture over this, pressing slightly so that it sticks.
Return to a lower rack in the oven and cook for 20 minutes or until medium rare. If a more browned crust is desired, place it under the grill for a few minutes. Remove from the oven and let it rest for three minutes.
Serve two chops, garnished with the rosemary, per person.
Serves 4
Recipe courtesy of Over the Moon Dairy who heard it presented by Chef John Greeley.
SERVES: 2-3
Difficulty: easy
SERVES: 6-8
Difficulty: easy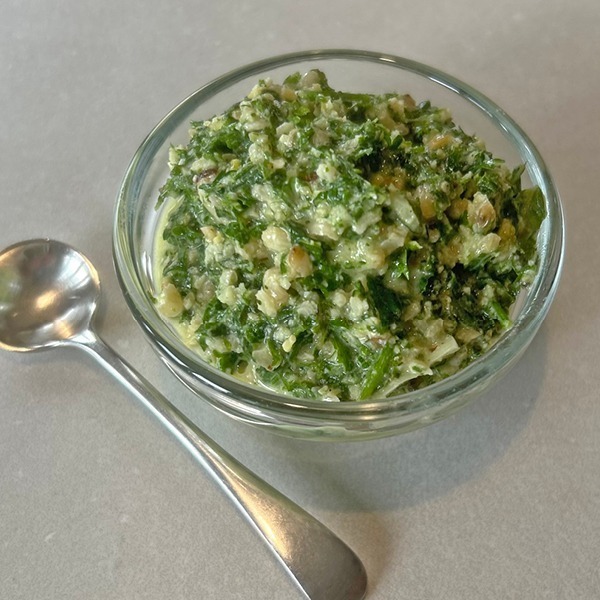 SERVES: 4
Difficulty: easy