Kates Retro Duck Supremes
Preparation Time:

250 mins

Serves:

4

Cooking Time:

90 mins

Ready Time:

340 mins

Difficulty:

Easy
Ingredients
4 x Gourmet Direct Duck Supremes
Big bunch of fresh thyme
Juice of 4 large oranges
3 large or 4 medium oranges sliced into rings
4 cloves garlic, peeled and julienned
1-2 cm fresh ginger, peeled and julienned
1 teaspoon duck fat (If you don't have this- cut off a little extra skin from the supremes and render down)
1L Chicken Stock
3 whole peeled and trimmed carrots
2 tablespoons brown sugar
1 tablespoon flour
¼ cut hot water
¼ cup ruby port
Method
Pat the duck dry and score the skin in a criss-cross pattern and rub with salt.
Place into a glass or ceramic dish, add the thyme, orange juice, garlic and ginger and marinate for at least 4 hours in the refrigerator, or preferably overnight.
Remove the duck from the dish, (reserving the marinade), and sear off
in a hot pan with the duck fat until golden brown on both sides.
Place the carrots in an ovenproof cassarole dish and place the duck on top of these, preferably in one layer. Strain the marinade into the pan you have seared the duck in and place the strained thyme, ginger and garlic on top of the duck. Sprinkle two generous tablespoons of brown sugar over the duck and place the orange slices over the duck.
Meantime, add the stock to the marinade and heat until reduced by a third, and then pour over the duck, (you should have just enough to cover) and add salt and pepper to taste. If you think it needs more oomph at this point, add a little verjuice. Cover and cook in the oven at 180 degrees for 1 hour, and then remove lid, and reduce heat to 170 degrees and finish for about 30 minutes. Remove duck, and set aside in a warm place.
Strain thyme, ginger, garlic, carrots and orange slices and discard all solids.
Reduce the remaining liquid by a third over a medium to high heat. Mix the flour and hot water to a paste and add, along with the ruby port. The sauce will thicken very slightly.
Taste test, season and serve over top of duck with yummy garlic mash or mushroom risotto and greens.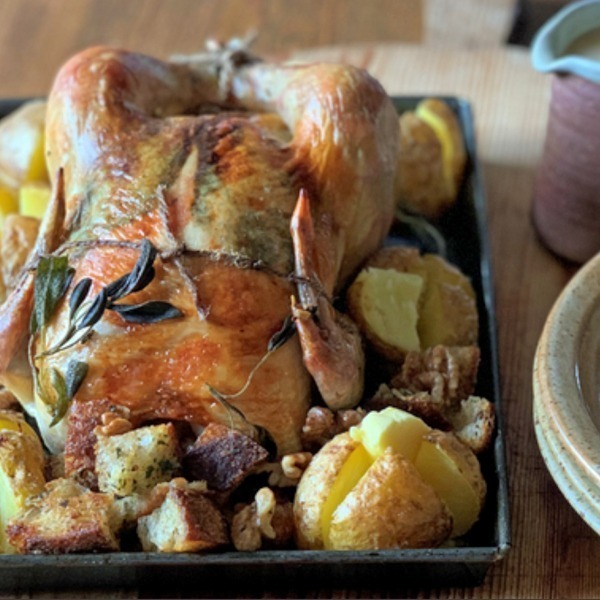 SERVES: 6
Difficulty: easy
SERVES: 4-5
Difficulty: easy
SERVES: 4-6
Difficulty: easy