Jamie Olivers Chicken One Cook Wonder Dish
Preparation Time:

10 mins

Serves:

4

Cooking Time:

80 mins

Ready Time:

90 mins

Difficulty:

Easy
This recipe is based on one by Jamie Oliver and takes literally minutes to put together but then requires slow, gentle cooking. However, in return for your patience, what happens in the pan from just a couple of ingredients is an absolute joy and never fails, so it's a good one to serve if you have guests. Basically the skin of the chicken goes beautifully crisp and the meat becomes sticky and tender and falls away from the bone, while the tomatoes are slow-roasting and creating the most fabulous broth. The finished dish can be flaked into warm salads, tossed with some cooked and drained pappardelle or simply eaten as it is. A great recipe.
4 Chicken Supremes (or whole Chicken Legs)
sea salt and freshly ground black pepper
a big bunch of fresh basil, leaves picked, stalks finely chopped
2 big handfuls of red and yellow cherry tomatoes, halved, and ripe plum tomatoes, quartered
1 whole bulb of garlic, broken up into cloves
1 fresh red chilli, finely chopped
olive oil
optional: 1 x 410g tin of cannellini beans, drained
optional: 2 handfuls of new potatoes, scrubbed
Preheat your oven to 180°C/350°F/gas 4. Season your chicken pieces all over and put them into a snug-fitting pan in one layer. Throw in all the basil leaves and stalks, then chuck in your tomatoes. Scatter the garlic cloves into the pan with the chopped chilli and drizzle over some olive oil. Mix around a bit, pushing the tomatoes underneath. Place in the oven for 1 ½ x hours, turning the tomatoes halfway through, until the chicken skin is crisp and the meat falls off the bone. If you fancy, you can add some drained cannellini beans or some sliced new potatoes to the pan and cook them with the chicken. Or you can serve the chicken with some simple mashed potato. Squeeze the garlic out of the skins before serving. You could even make it part of a pasta dish – remove the chicken meat from the bone and shred it, then toss into a bowl of linguini or spaghetti and serve at once.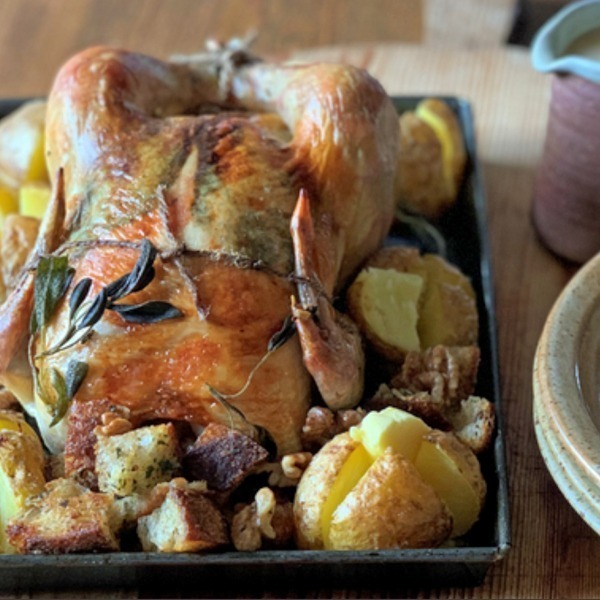 SERVES: 6
Difficulty: easy
SERVES: 4-5
Difficulty: easy
SERVES: 4-6
Difficulty: easy