Hazelnut Stuffing for Whole Boneless Turkey Recipe
Preparation Time:

15 mins

Serves:

8

Cooking Time:

180 mins

Ready Time:

195 mins

Cooking Method:

Roasting

Difficulty:

easy
Hazelnut Stuffing:
Combine in Kitchen Whizz:
2 x Bacon Rashers (diced)
1 x Onion (diced)
2 cloves garlic (diced)
(brown in butter)
Grind of fresh black pepper into 150gm softened butter and 1 tsp of salt. Toast a ½ cup chopped Hazelnuts in butter in hot oven, then pulse to coarse breadcrumb texture. Keep an eye on these or they will burn and spoil!
**Tip for Toasted Hazelnuts:
To get off skins off, wrap in tea towel to remove skins – be quite rough.
Pulse a handful of semi dried cranberries.
Add:
Zest of an orange. Fry it all (just to soften) with:
1 Tbsp Fresh Parsley
1 Tbsp Fresh Thyme
Take crust off French loaf and dice white bits. Discard the crusts.
Add:
1 teaspoon Fresh Thyme
1 teaspoon Djon Mustard (mild mustard)
Add to fried bread mixture
Add:
100ml good white wine – enough for mixture to soak up.
Blend over mild heat to enfuse flavours. Set aside to cool.
STUFFING THE WHOLE BONELESS TURKEY
Method:
Have cooking string (non-plastic) handy. Preheat your oven to 160º C.
Remove Turkey from wrapping, rinse under cold water and pat dry with a handy towel. Spread bird out, skin-side down, over glad wrap on a clean surface. With a sharp knife open out the breast meat so as to make the meat cover more even. You may wish to pound the meat out here if you want a particularly even spread but do not over-pound!
Take a sharp toothpick or wooden skewer and spike the turkey meat all over. Squeeze the juice of one large lemon all over the meat and season with salt and pepper. Take spoonfuls of the Hazlenut stuffing and place firmly through the centre of the meat mass. You need to use your judgement here. You may not need all the stuffing.
Using the plastic to help you, gently but firmly roll the turkey from left to right (or right to left!) tucking in the top and bottom bits as you roll. Take the cooking string and beginning at one end, tie the turkey at 1.5cm intervals. Do the first two then run the string along the length of the Turkey and underneath, back along the length of the Turkey and tie on top. Continue to tie at 1.5cm intervals running the string through the lateral tie to keep the gaps even. If necessary use toothpicks to pin any wayward pieces. This takes practice and sometimes having a friend there to help can be a good idea!
Once your Turkey Log is prepared gently brown it in a medium hot fry pan with a little butter. Remove the meat to an oven bag or covered oven dish. Squeeze the juice of one medium lemon over the meat before putting it into the oven. Bake covered for approximately 1 hour 45 minutes before testing for doneness. A skewer test should produce clear juices for the meat to be ready to rest. Depending on your oven, you may need to cook for a further 15 to 20 minutes. Allow 15 minutes resting time. Remove and discard the string after resting. If you do not allow sufficient resting time you will not be able to carve the meat in neat slices of bright white flesh meat and colourful stuffing!  *Serve with Tamarillo and Plum Chutney!
© Fresh Taste Foods Limited. 2005 and © Graham Brown. For information regarding Graham's Cookschool email graham@thecookhouse.co.nz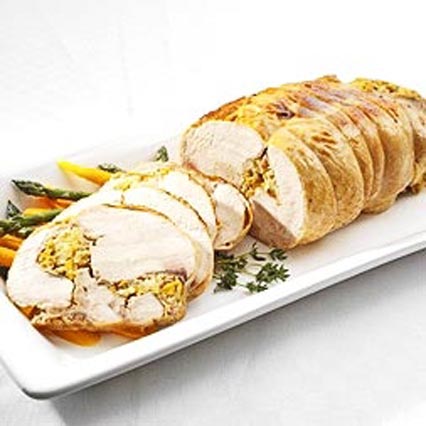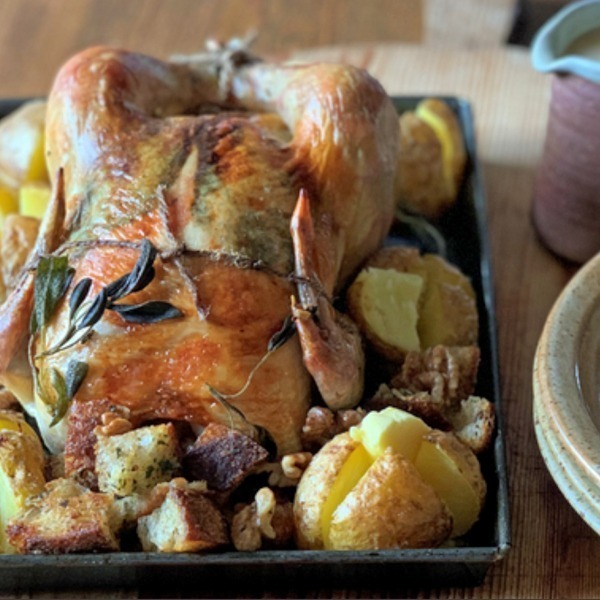 SERVES: 6
Difficulty: easy
SERVES: 4-5
Difficulty: easy
SERVES: 4-6
Difficulty: easy