Duck Confit with Zuchinni, Micro Basil and Hazelnut Dressing
Preparation Time:

15 mins

Serves:

6

Cooking Time:

180 mins

Ready Time:

195 mins

Difficulty:

Easy
Yield: 6 Servings – Appetizer size
Jason Dell.
Confit Duck
3 x Gourmet Direct duck legs
1 litre Gourmet Direct rendered duck fat
½ cup fresh garden thyme
2 garlic cloves (lightly crushed)
1 orange zested
6 juniper berries (crushed)
2 tbsp rock salt
Hazelnut Dressing:
¾ cup hazelnuts toasted and skinned (1/2 chopped roughly)
1 cl garlic, minced
2 tbsp coconut vinegar
1 palm sugar disc, grated
2 tbsp reduced balsamic vinegar
2 tbsp fresh basil, chopped
2 tbsp fresh mint, chopped
¼ cup peanut/hazelnut oil
salt and pepper
1 cup assorted micro herbs (washed)
5 tbsp Caramelised onion jam
Zucchini Gratin:
2 courgettes, sliced thinly, blanched
6 discs (1cm thick) of kumara roasted
Method:
Pat duck legs dry with paper towels. Chop the thyme, zest and garlic and rub this over the duck legs. Cure for 4 hours, then wash off. Heat the duck fat in a casserole dish/roasting dish or similar. Place the duck legs into the hot fat skin side up, ensuring that they are fully submerged. Cover with tin foil or tight fitting lid and place into oven at 140 'C and cook for approx 2 – 2 ½ hours. Allow to cool in the fat. Take out of solidified fat, remove meat from carcass. Remove skin and bone. Shred meat, set aside until required.
For dressing, place ingredients (except hazelnuts & herbs) in small saucepan, heat to amalgamate. Stir through the whole and roughly chopped hazelnuts. Once cooled, stir through herbs.
Place the cooked shredded meat in frying pan and under a hot grill to warm. Arrange a roasted kumara disc in bottom of a ring mould. Place onion jam on top of kumara, moisten with a little dressing, then arrange shredded duck confit meat on top. Lastly place the zucchini rings on top in a pinwheel fashion, brush with butter and bake in moderate oven for 5 minutes. Dress the hazelnut dressing around, garnish with micro basil and droplets of red wine syrup. Serve.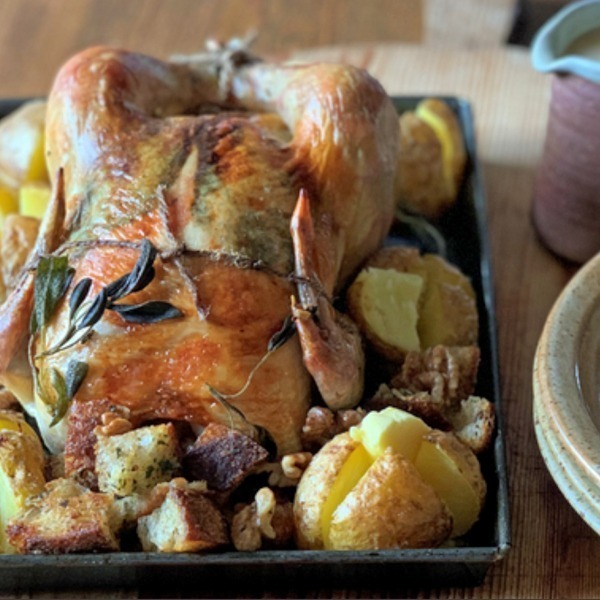 SERVES: 6
Difficulty: easy
SERVES: 4-5
Difficulty: easy
SERVES: 4-6
Difficulty: easy