Duck Breast with Pears Recipe
Preparation Time:

10 mins

Serves:

4

Cooking Time:

15 mins

Ready Time:

25 mins

Difficulty:

Easy
2 pkts Gourmet Direct Duck Breasts
6 Firm Comice pears, peeled, cored and quartered
1 Cinnamon Stick
30g Butter
1 Tbsp Olive Oil
1 Tbsp Clear Honey
2 Onions sliced
1 Tsp Five Spiced Powder
2 Ripe Tomatoes, peeled and chopped
Pinch of Salt
2 Tbsp Sherry Vinegar
100ml Dry Sherry
300ml Chicken or Duck Stock
Salt and Freshly Ground Pepper
Preheat oven to 220C, season the Duck breasts with salt and pepper.In a saucepan over a medium heat put the pears, cinnamon stick and enough water to cover. Bring to just below the boil and simmer for 8-10 mins, or until the pears are just tender. Strain the pears, reserving the cooking liquid.Meanwhile melt the butter with the oil in a heavy-based pan over a medium heat. Fry the duck breasts skin down for 6-8 mins. This not only seals them but also allows the fat to infuse the meat. Drain off the fat, keeping it for later, turn the breasts over and brush the skins with honey and bake them in the oven for 15 mins or a little longer if you do not like the meat pink.
Meanwhile heat 3 Tbsp of the duck fat in a clean heavy-based pan over a medium heat and fry the pears until just golden. Using a slotted spoon, transfer them to a plate and keep warm. Sprinkle the onions with five-spice powder and sauté them in the same fat along with the tomatoes and sugar for about 10mins or until soft. Pour in the sherry vinegar and sauté for another 5 mins.
Remove the duck from the oven and keep warm. Tip the fat from the dish into the onions. Turn up the heat, add the sherry, stock and about 300ml of the strained cooking liquid from the pears, bring to the boil and cook rapidly, uncovered, for about 10 mins so that it reduces by about two-thirds.Transfer the contents of the pan to a food processor and whiz until smooth. Return the sauce to the pan, stir any juices from the cooked breasts and adjusts the seasoning. Arrange the duck breasts with the pears on top of the that and heat for a couple of minutes.
Serve immediately 
Serves 4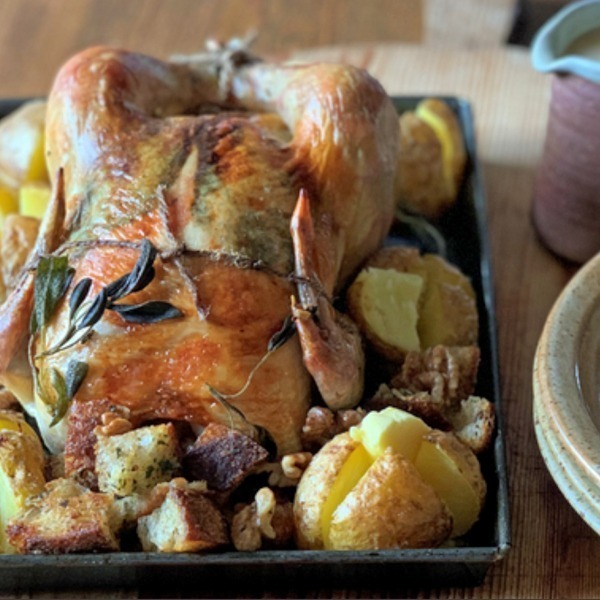 SERVES: 6
Difficulty: easy
SERVES: 4-5
Difficulty: easy
SERVES: 4-6
Difficulty: easy