Darned Delicious Duck Confit
Preparation Time:

20 mins

Serves:

6

Cooking Time:

180 mins

Ready Time:

200 mins

Difficulty:

Easy
6 x Whole Gourmet Direct Duck Legs
6 x cloves fresh Garlic
Large bunch fresh Thyme – young and soft if possible
4 Tbsp Sea Salt
Squeeze of Lemon
Zest of one small Orange and one Lemon
Fresh Black Pepper
4 Star Anise
2 x Gourmet Direct Duck Fat pouches
1 x 500gm Gourmet Direct Chicken Stock
The Day Before:
Defrost the Duck Legs overnight in the fridge and remove from packaging. Pat dry with paper towels, prick all over with sharp skewer and place in large glass dish. (If you don't have glass then use a metal dish but line with baking paper).
In a mortar and pestle grind the salt and star anise and half of the Thyme and sprinkle over the Duck. Slice the Garlic and spread over the Duck. Cut strips of citrus rind and mix over the Duck. Squeeze the citrus juice over the Duck. Tuck the rest of the Thyme under and over the Duck leg pieces. By now the aromas should be getting you very excited about your next meal! Season liberally with black pepper.
Cover and refrigerate overnight and up to 24 hours. The longer the better. You can turn the Duck once or twice in this time if you wish.
The Next Day:
Preheat your oven to 150°C or use a rectangular slow cooker set on high for the first hour then turn down to Low.
Remove the Duck from the fridge and shake the salt and seasonings of the meat reserving the Thyme and the Garlic. Rinse the legs and pat dry with paper towels.
Heat the Duck Fat so that it melts.
Place the Duck legs in a slow cooker or oven dish large to accommodate them easily (the flatter the better). Pour the melted Duck fat over the legs and add the whole 500gms of Chicken Stock.
Sprinkle in the reserved Thyme and Garlic.
Cover and cook in a slow oven for three hours. Turn the oven off and allow the Duck to cool in the fat and stock mixture. Once the dish is cool enough to handle place in the fridge if you're not serving the Duck that day.
The next day or whenever you wish to serve:
Heat your oven to 220°C or if working from yesterday and the duck is still warm you can simply grill it to crisp the skin and brown all over.
You can fry the duck to achieve this but you risk the skin sticking and ruining the appearance of your Duck so I prefer to grill or hot roast.
Serve with green beans, garlic mash and some Chilli Pickled Pears on the side.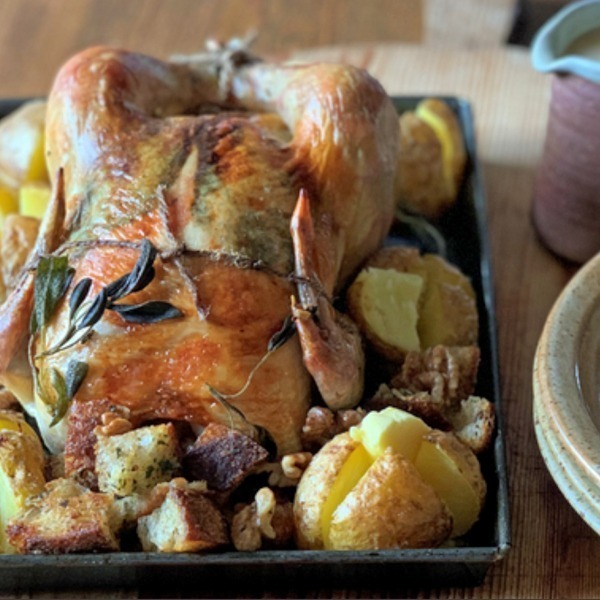 SERVES: 6
Difficulty: easy
SERVES: 4-5
Difficulty: easy
SERVES: 4-6
Difficulty: easy