Coconut and Corn Chicken Chowder
Preparation Time:

20 mins

Serves:

6

Cooking Time:

60 mins

Ready Time:

80 mins

Difficulty:

Easy
10 Cups Water
Pepper Corns
4 x Bay Leaves (fresh or dried)
Rinse, clean and dry the Chicken and place in large pot. Add the water, Bay and Pepper Corns. Bring to the boil then reduce to a simmer and allow to cook for about an hour or until the Chicken is just cooked through. Remove from the heat and allow to cool.
Lift the chicken from the stock and separate the flesh from the skin and bones. Discard the skin and bones and set the flesh aside. Return the stock to the stove and boil to reduce by a third.
50gms butter (melted)
5 large onions
4 cloves garlic
5cm piece root Ginger
2 tsp Tumeric
¼ tsp Chilli powder
100gms Coconut Cream
Chopped Parsley
1 450gm tin Creamed Corn
1 450gm tin Corn Kernels
Salt & Pepper
½ cup chopped Celery with leaves
Sherry Vinegar
Finely chop Onions, Celery, Garlic and Ginger and in a large pot, fry off in melted butter until soft but not brown. Add the spices and cook for a further few minutes. Add the Coconut Cream and Corn and bring to medium heat.
Add the reserved Chicken stock through a sieve. Bring to medium heat. Shred the chicken flesh leaving reasonable chunks and add to the soup base. Taste soup and season and add a little more spice if desired.
Add 1 or 2 Tbsp Sherry Vinegar according to taste. Cook a further few minutes until the Chicken is hot but do not allow it to go stringy.
Serve garnished with fresh chopped Parsley.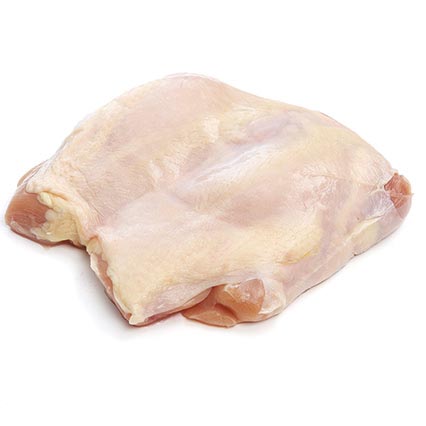 Free Range Whole Boneless Chicken
Whole Free Range chickens completely boned out with skin left on. Chicken boned out by our experienced butcher then snap-frozen down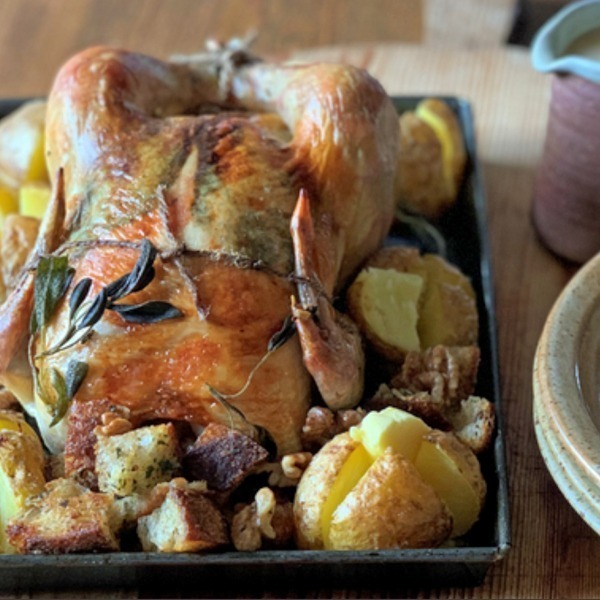 SERVES: 6
Difficulty: easy
SERVES: 4-5
Difficulty: easy
SERVES: 4-6
Difficulty: easy