Chicken Tagine with Apricots and Almonds
Preparation Time:

15 mins

Serves:

6

Cooking Time:

60 mins

Ready Time:

75 mins

Difficulty:

Easy
*I have adapted this recipe from one I found on the internet. It is better made the day before you wish to serve it, as the flavours really develop with a days grace.
Ingredients
• 1 teaspoon ground Cinnamon
• 1 teaspoon ground Ginger
• 1/2 teaspoon Turmeric
• 1/2 teaspoon Black Pepper
• 1 1/4 teaspoons Salt
• 3 tablespoons plus 1/4 cup Olive Oil
• 1.5 kg Free Range boneless, skinless Chicken Thighs (3 packets)
• 1 tablespoon Butter
• 1 medium Red Onion, halved, then sliced thickly
• 1 Tbsp Verjuice or Port Wine to deglaze
• 4 Garlic Cloves, finely chopped
• 3 Tbsp chopped fresh Parsley
• 1/2 cup water
• 500mls Chicken Stock
• 2 Tbsp runny Honey
• 1 Cinnamon stick
• 1 cup dried Apricot halves (I prefer Otago but you can use the yucky Turkish ones if you must be authentic!)
• 1 Cup Verjuice plus 100mls if marinating
• 1/3 cup slithered or whole Almonds
Method
Marinate the chicken overnight or for a few hours with 100mls of Verjuice. (This step is not essential but does add flavour)
Mix together ground cinnamon, ginger, turmeric, pepper, salt, and 2 tbsp olive oil in a large bowl. Add chicken thighs and turn to coat well. Set aside for 10-15 minutes. On occasion I have added grated fresh ginger to this dish (about an inch).
Heat butter and 1 tablespoon oil in base of tagine (or heavy based oven dish), then brown the chicken in batches, skin sides down, turning over once. Transfer to a plate. Brown remaining chicken in same manner, adding any spice mixture left in bowl. Keep browned chicken warm.
Add onion to tagine and cook, uncovered, stirring frequently, until soft. Add garlic and continue to cook for few minutes. Add a splash of Port Wine or Verjuice to deglaze the pan, stirring constantly. Pour 1/2 cup water and all the chicken stock into the onions and cook until the stock has melted entirely. Add the reserved chicken and any juices accumulated on the plate. Reduce heat and simmer covered for 30 minutes. You can put the whole dish into the oven at this point around 180°C for 30 mins.
While the chicken cooks, bring the honey, one cup of Verjuice, cinnamon stick, and apricots to the boil in a saucepan. Reduce the heat and simmer, uncovered, until apricots are very tender. Once the apricots are tender, simmer until the liquid reduces to one third of it's original volume. Add this mixture to your chicken with the chopped fresh parsley.
While the apricots cook, heat a little olive oil in a small pan over medium heat and cook the almonds, stirring occasionally, until just golden. Transfer with a slotted spoon to paper towels to drain. Add to your chicken reserving a few to sprinkle over each plate.
Serve over your choice of couscous, rissoni, rice or potato.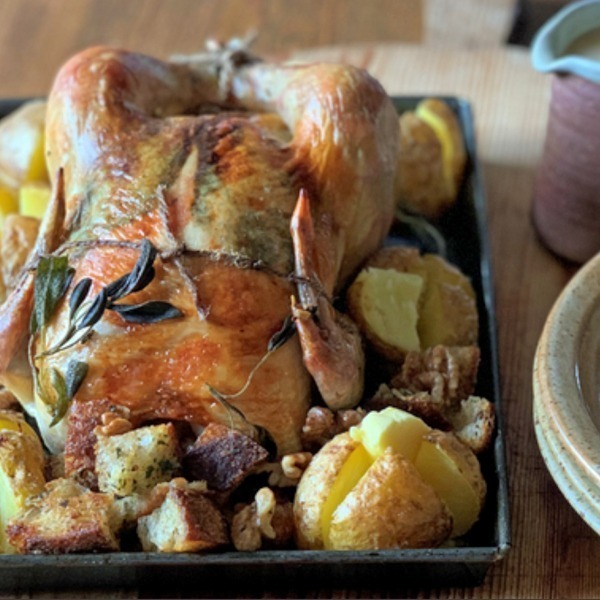 SERVES: 6
Difficulty: easy
SERVES: 4-5
Difficulty: easy
SERVES: 4-6
Difficulty: easy