Chicken Supreme stuffed with Lamb Sweetbreads & Wine Barrel Smoked Mushrooms
Preparation Time:

12 mins

Serves:

4

Cooking Time:

30 mins

Ready Time:

42 mins

Difficulty:

Easy
1 Gourmet Direct Organic Boneless Chicken Breast
2 Gourmet Direct Organic Chicken Supremes
2 free range eggs (separated)
500ml cream
salt
100g Gourmet Direct Lamb Sweetbreads
100ml white wine vinegar
1 bulb of garlic (peeled)
2 sprigs thyme
3 black peppercorns
16 wine barrel smoked mushrooms
2 tablespoons soy oil
100g unsalted butter
200ml Gourmet Direct Chicken Glaze
5g dried morel mushrooms
2 courgettes

Preheat oven to 180˚C

Sweetbread & chicken mousse stuffing
Place boneless chicken breast in a blender. Add the egg whites and blend. While blending slowly add 300ml cream, and a pinch of salt. Mix until smooth. Place sweetbreads in a saucepan. Cover with cold water, and add the white wine vinegar, garlic, thyme and black peppercorns. Bring to boil then take off the heat and leave the sweetbreads to cool in the liquid. Then drain and mix into the chicken mousse.
Chicken supreme preparation
Using a steel or blunt object, make a hole in the middle of each chicken supreme. Stuff the chicken and sweetbread mixture into the hole made. Then stuff 4 smoky wine barrel mushrooms under the skin of each supreme. Sprinkle with salt. Pan fry the stuffed breast in soy oil. Start with the skin side down until crisp then turn over, add the unsalted butter and cook for 1 – 2 minutes. Transfer to the oven and cook at 180˚C for 12 – 14 minutes. Place immediately onto clean tea towel to rest for 5 minutes and then slice.

Morel cream sauce
Rehydrate morel mushrooms by soaking in warm water for 30 minutes. Place the chicken glaze, 200ml cream in a saucepan and add the morels. Heat to just before boiling and reduce by 1/2. Ensure to stir to avoid burning the cream. Season to taste. To serveBlanche the courgettes and dice. Arrange chicken supreme on plate and drizzle sauce over dish. Garnish with courgette.
Serves 4.

By Jeremy Rameka, Chef, Pacifica Restaurant, Marine Parade, Napier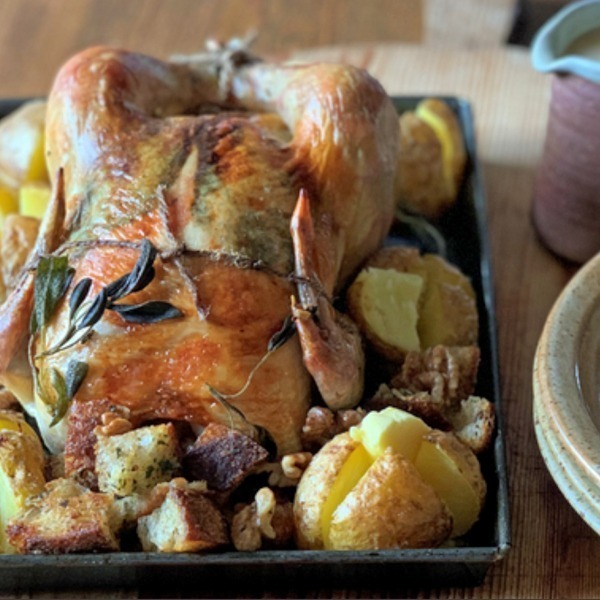 SERVES: 6
Difficulty: easy
SERVES: 4-5
Difficulty: easy
SERVES: 4-6
Difficulty: easy