Boneless Lamb Leg with Moroccan Carrot Salad Recipe
Preparation Time:

5 mins

Serves:

6

Cooking Time:

30 mins

Ready Time:

35 mins

Difficulty:

Easy
Ingredients:
1 Gourmet Direct Tunnel Boned Lamb Leg
1 tsp. Ground Tumeric
2 Saffron Threads, toasted
10 Medium peeled Carrots
3 Cloves Garlic chopped finely
2 tsp Sweet Paprika
1tsp Castor sugar
1 ½ Cups Boiling Water
1 tsp. Red Wine Vinegar
1 tbsp. Chopped Italian Parsley
1 tbsp. roughly chopped Mint
Freshly Ground Black Pepper
Sea Salt
2 tbsp. Olive Oil
Crush the Saffron and rub over the Lamb with Black Pepper, Sea Salt and Olive Oil. Place in a 180 c oven for 25 minutes then remove from heat, cover loosely and rest in a warm place for 15 mins.
For the Carrot Salad
Cut the Carrots into 6cm batons then combine with Garlic, Paprika, Sugar and Water in a saucepan. Cover and cook over a medium heat for 5-6 minutes. Add the Red Wine Vinegar then remove from the stovetop and season with Salt. To Serve
Slice the Lamb and top with the meat juices. Turn the Carrots out onto a platter and allow to cool slightly then sprinkle with the Parsley and Mint. This is great served with Couscous.
Serves 6
SERVES: 2
Difficulty: easy
SERVES: 3-4
Difficulty: moderate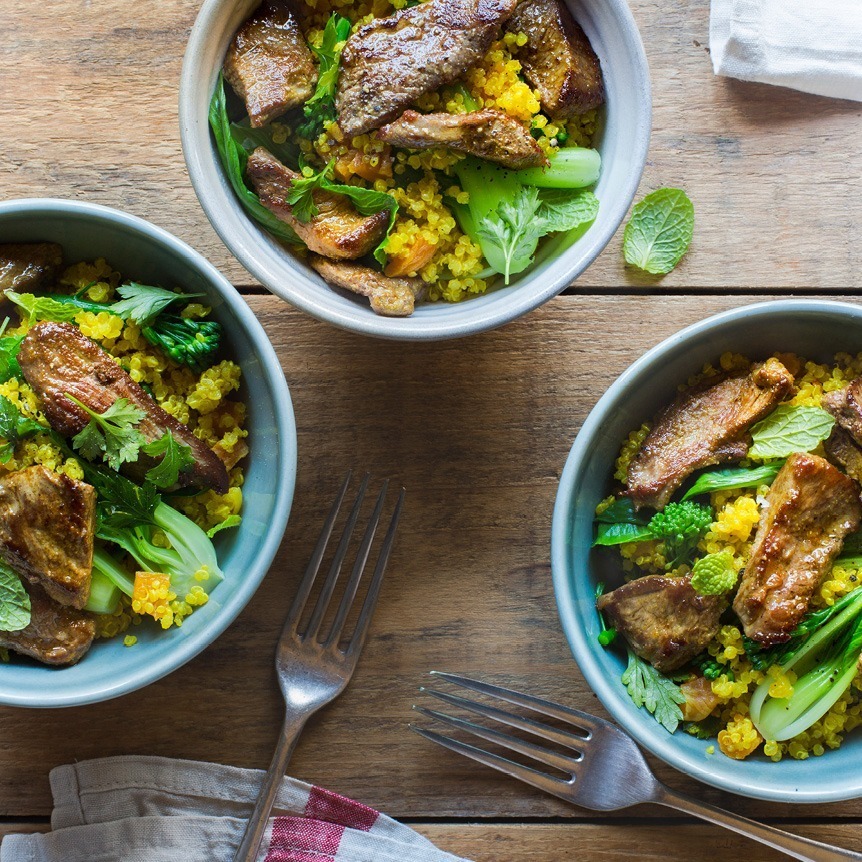 SERVES: 3-4
Difficulty: easy