Best Ever Chicken Liver Pate
Preparation Time:

60 mins

Serves:

6

Difficulty:

Easy
500g chicken livers
1 onion diced
1/4 cup brandy
1 bayleaf
1/2 teaspoon thyme
1/2 cup cream
1/4 cup dry sherry
75 g butter
50 g butter
3 rashers bacon finely sliced
Chop livers and trim off any white sinews then place in a bowl with the brandy , marinate for 1 1/2 hours.
Drain livers and then heat 50g butter in pan.
Add onions, livers, bacon, thyme and bay leaf and simmer for 5 minutes. Remove from heat and remove bay leaf.
Put mix and sherry in batches in kitchen whizz and process till smooth with cream and season with salt and pepper.
* To get a really smooth creamy pate push through a sieve after this to have a lovely light texture.
* Or you can process the mix to a chunky texture and leave it like that for a more rustic version
Put finished mix in dishes to serve, lay a bay leaf flat on top of pate and press lightly to stick.
Next melt the extra butter in a pot and take the clear clarified butter off the top and spoon carefully on to top of your pate dishes to seal them and create a lid.
Chill in the fridge for at least an hour before serving.
You can make the pate mix and put into containers and then freeze them with gladwrap pressed down firmly to the top of the pate before the butter stage if you like – will freeze for a month.
Enjoy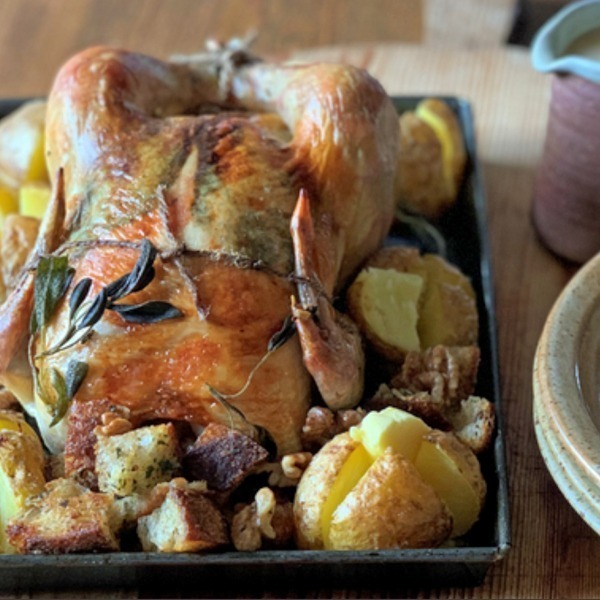 SERVES: 6
Difficulty: easy
SERVES: 4-5
Difficulty: easy
SERVES: 4-6
Difficulty: easy