Best Ever Carbonara Penne Pasta with Havarti
Preparation Time:

5 mins

Serves:

4

Cooking Time:

15 mins

Ready Time:

20 mins

Difficulty:

Easy
This is a variation on a traditional Carbonara recipe.  Spaghetti Carbonara is a simple dish but requires the very best, freshest ingredients in order to impress.  It is said that Carbonara gained popularity outside of Italy after the Second World War when the Allies brought it home to their respective countries, having fallen in love with the familiar flavours of eggs and a kind of Bacon combined with great Pasta.
Traditionally made with Parmesan, I make this version for my family with Kaimai Havarti Cheese as a child-friendly alternative.  The creamy havarti works well with the Pasta, dissolving into a silky, yet lite sauce.
Ingredients:
2 Cups Dry Penne Pasta
3 whole Eggs
1 Cup loosely packed grated Kaimai Havarti Cheese
6 Shallots peeled and thinly sliced
3 Cloves Crushed Garlic
100gms Pancetta chunked
2 Tbsp Olive Oil
Freshly ground Black Pepper
Bring a large pot of water to the boil.  Add Pasta stirring occasionally to prevent sticking.  Add Salt to the water if you wish.
Over medium heat, sauté the Shallots, Garlic and Pancetta in Olive Oil.
Turn off heat and wait til Pasta is cooked to Al Dente (just cooked) texture.  Drain the Pasta reserving 2 Tbsp of the cooking water.  Add the Pasta and reserved cooking water to the Shallot and Pancetta pan.  Toss to combine.
Beat the eggs and add the grated cheese.  Pour this mixture over the hot Pasta mixture and fold it in.  Here you can do one of two things.  If the Pasta is still very hot your egg mixture will cook in the heat without extra assistance.  If you are concerned that too much heat has been lost, return the pan to very low heat while you fold in the eggs and cheese.  The egg should just begin to gel and the cheese should be totally melted so that you cannot tell it is there.
As soon as this happens, your Pasta sauce is done.  Do not over cook or you will end up with something that resembles scrambled egg and Pasta!  Grind over your desired amount of fresh Black Pepper and serve at once.
Serves 4.
Delicious with Cherry Tomatoes and a Green Salad.
SERVES: 2-3
Difficulty: easy
SERVES: 6-8
Difficulty: easy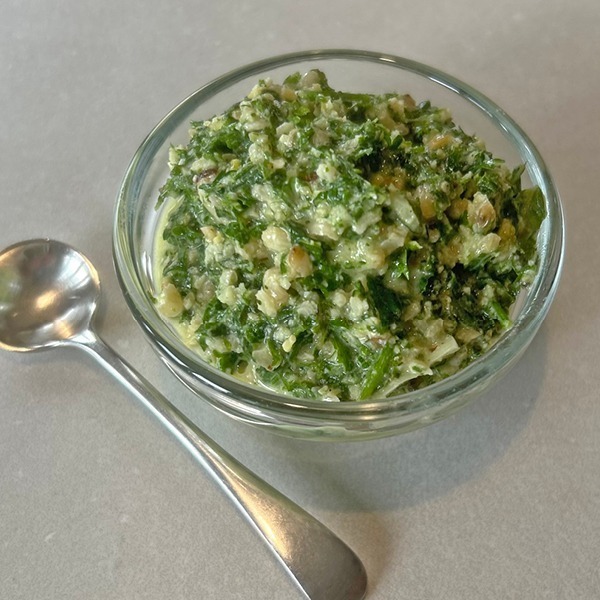 SERVES: 4
Difficulty: easy