Barbecued Poussins by Julie Biuso
Preparation Time:

15 mins

Serves:

6

Cooking Time:

60 mins

Ready Time:

75 mins

Difficulty:

Easy
erves 6 or more
By Julie Biuso from 'Sizzle – Sensational Barbecue Food'
New Holland Publishing
This is an easy way to prepare young chickens – and splitting them in half ensures even cooking. If serving them as part of a big meal, half a poussin per person is generally sufficient, but if serving them with just a salad and bread, for instance, three-quarters to a whole poussin should be allowed.
6 poussins (very young chickens), about 350g each
8 cloves garlic, peeled and crushed
1 loosley packed cup finely chopped coriander (or a blend, e.g. parsley, rosemary and marjoram)
1 Tbsp freshly ground black pepper
2 tsp salt
½ cup lemon juice
4 Tbsp melted butter
1. Start preparation of poussins the day before cooking them. Using scissors, cut off necks if still attached, and pull off any visible fat. Slice each poussin down the length of the backbone, then snip through bone using poultry shears (or strong scissors). Turn poussins over and press flat by dislocating ball and socket joints of legs and wings (where they join the carcass).
2. In a small bowl mix remaining ingredients except the butter and paint over poussins with a soft brush. Pile poussins in a dish, one on top the other, cover with plastic food wrap and refrigerate until the next day.
3. Take poussins out of fridge, turn over and spoon on juices. Return them to fridge, but bring to room temperature 1 hour before cooking. Reserve marinade for basting.
4. To barbecue poussins, allow 45-60 minutes cooking time over a medium heat. Brush skin side of poussins with the melted butter and cook this side first on the barbecue hot plate, then flip over and cook underside. Baste and turn poussins until cooked all the way through. Lower heat if poussins are cooking too quickly. If marinade runs out, use a little more melted butter. Poussins should be crisp and golden with tender, juicy flesh. Serve garnished with a bouquet of fresh herbs.
5. Alternatively, poussins can be partially barbecued until lightly coloured (which will be a mild barbecue taste), then placed in roasting tins and finished off in an oven preheated to 180˚C. This is ideal if serving the poussins as part of a barbecue feast, as it frees the barbecue for other cooking.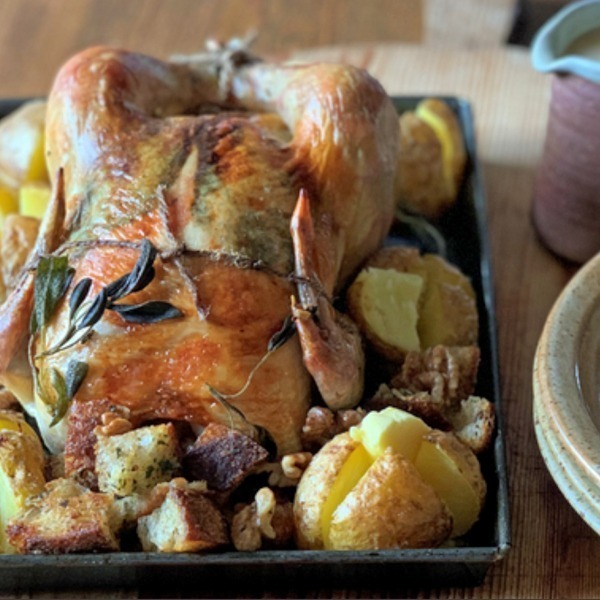 SERVES: 6
Difficulty: easy
SERVES: 4-5
Difficulty: easy
SERVES: 4-6
Difficulty: easy