Aromatic Barbecued Poussin
Preparation Time:

10 mins

Serves:

6

Cooking Time:

30 mins

Ready Time:

40 mins

Cooking Method:

Barbecue

Difficulty:

Easy
Ingredients
4 or 6 Poussin, spatchcocked
3 cloves garlic, peeled and crushed
1 ½ tablespoons fresh minced ginger
1 heaped teaspoon finely minced red chili
1 ½ teaspoons brown sugar
3 teaspoons fish sauce
½ ripe lime
2 ½ tablespoons oyster sauce
Method
Defrost your Poussin on a plate, in the fridge overnight. Cut the Poussin through the spine so that they will now lie flat during cooking and marinating. Rinse inside and out, and pat dry with a paper towel.
Combine garlic, ginger, chili, brown sugar, fish sauce and the juice of half a ripe lime in a mortar and pestle to make a paste.
Add this to the Poussin and marinate in the fridge (in a glass, covered bowl) for at least 1 hour, preferably up to 24.
Remove the marintated Poussin from the fridge 15 minutes before cooking, and make sure you reserve the marinade. Heat your barbecue hot plate to medium hot.
Sear the Poussin skin side down for 10 – 12 minutes, during which time brush the Oyster sauce over to glaze (resist the temptation to lift the chicken until the skin releases from the barbecue plate on its own!). If your barbecue is too hot, adjust the heat down. Reduce heat to medium, turn the Poussin, and sprinkle with a light dusting of sea salt and continue to cook for a further 15 minutes. Remember that cooking time will vary depending upon your barbecue, and it is important that you check for 'doneness' before serving. Poussin is cooked when juices run clear when the flesh is pierced at the deepest point.
Allow Poussin to rest on the Barbecue with the heat turned off for up to 10 minutes after cooking.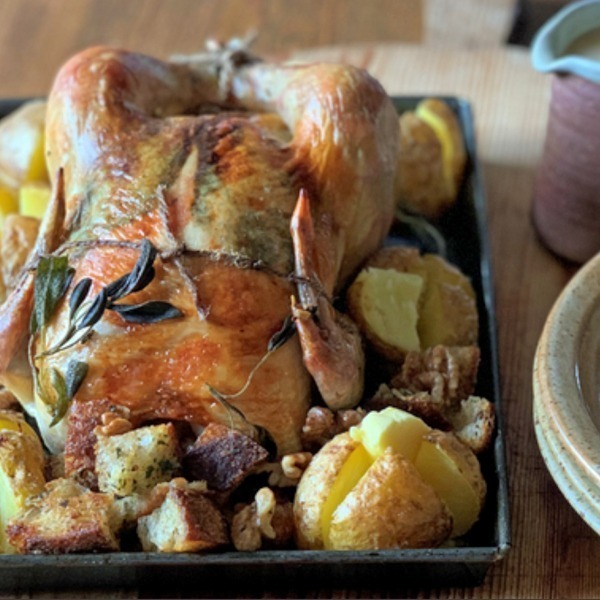 SERVES: 6
Difficulty: easy
SERVES: 4-5
Difficulty: easy
SERVES: 4-6
Difficulty: easy