Gold & Black Duo Pepper Grinder 75g
Absolutely gorgeous to behold and delightful to use in a range of dishes – Foie gras, meat, fish, sauces …
It will elevate your dishes to new heights with an unique sparkling touch!
PRODUCT SPECIFICATION
Approximate Weight: 750grams

$29.50/each
Black peppercorns with a sprinkling of gold dust. 75gm.
---
No Recipe associated with this product..!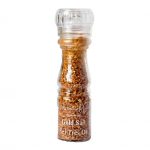 Gold Himalayan Salt Grinder 145gm
Elevate any dish to fabulous with a unique golden touch! The most gorgeous salt you ever did see.
Pink Himalayan salt spangled with gold dust will beautifully accompany dishes such as foie gras, meat and fish dishes, salads, and sauces.
145gm.
No nutrition information for this product..!