Crisp Apple Syrup 500ml
This crisp apple syrup is an essential and delicious staple for any foodie's pantry and is the perfect choice for Rose Veal.
Click here for Rose Veal products.
Use as a tasty substitute for gravy on Rose Veal, pork, duck steaks or chicken.
Super versatile, this syrup is perfect as a tangy glaze for ham and equally delicious drizzled over your favourite fruit tart or breakfast porridge.
This syrup is as natural as they come with no preservatives and made from 100% Hawkes Bay NZ grown fruit.
PRODUCT SPECIFICATION
Serves Per Pack: 50
Pieces Per Pack: 1

$22.95/each
No preservatives. Made from 100% Hawkes Bay NZ grown fruit.
---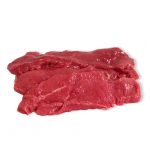 Rose Veal Schnitzel (Scaloppine)
Real Veal Schnitzel, thinly sliced in packs of approximately 400gm.
Conveniently portion packed so that a little goes a long way.
Ideal for Veal Marsala, crumbed schnitzel or similar dishes. Also known as Scaloppine (Scallopini).
Soft, tasty and tender, this meat is high in iron and low in fat.
Perfect to nourish a growing family.
Please note this product is Free-Raised Rose Veal from Hawkes Bay, New Zealand.
4-5 pieces per pack.