Aromatics Hot and Grunty BBQ Sauce 300ml
Enjoy this Kiwi version of a hot and fruity Texan style BBQ sauce.
The heat is achieved through the addition of three different chillis, including the delicious Habanero.
Great with barbequed meats and as a glaze on food cooked under the grill
PRODUCT SPECIFICATION
Pieces Per Pack: 1

$11.95/each
Hot Fruit flavour. Texan Barbecue Style. 300ml.
---
No Recipe associated with this product..!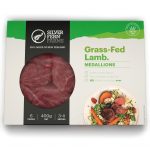 Silver Fern Farms Lamb Medallions 400gm
A signature cut from Silver Fern Farms, these medallions have been selected for melt-in-the-mouth tenderness and are succulent and juicy every time.
There are 6 medallions per vacuum pack and can be refrigerated for up to 30 days. Fail safe cooking instructions, recipe ideas and serving suggestions are also right there on the pack.
Best cooking methods – Pan-fry, BBQ.
No nutrition information for this product..!