Bee My Honey Raw Honeycomb 140gm
Honeycomb is the purest form of raw honey available.
It is cut directly from the bee frame and packaged, with no processing.
Each cell in this honeycomb is bursting with raw honey, encased in natural beeswax.
Honey comb is sure to make an amazing statement on a cheeseboard, its perfect to pair with a variety of cheese.
PRODUCT SPECIFICATION
Approximate Weight: 140grams

$10.95/each
100% raw Honeycomb, encased in natural beeswax.
---
No Recipe associated with this product..!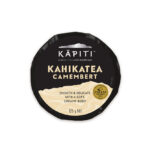 Kāpiti Kahikatea Camembert 125gm
Kāpiti Kahikatea Camembert is a celebration of the Kahikatea, which is New Zealand's tallest forest tree. The white mould coating of this famed Camembert opens to a soft, creamy body and mild delicate flavour. Gold winner at the 2021 NZ Cheese Awards, this is a must-try.
100% Raw Honeycomb with natural beeswax.