Organic Free Range Chicken Supremes
A rare find often exclusive to restaurants. Free range and organic, each pack contains four chicken breasts with wing bone left in for extra flavour.  This really is a great way to buy your favourite cut of chicken breast.
Product Sold frozen to ensure locked in freshness.
PRODUCT SPECIFICATION
Serves Per Pack: 4
Pieces Per Pack: 3-4
Price Per KG: $39.95
Approximate Weight: 1kg

$39.95/each
* Estimated Price Per Pack Including GST
Out of stock
100% Free Range and Organic NZ bred chicken.
---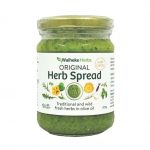 Waiheke Herb Spread
Waiheke Herb Spread is a unique blend of fresh herbs which have been carefully selected for their culinary flavour and their health-giving qualities. Forget the healing properties of the fresh herbs inside this spread, it's just delicious. Never mind that it's gluten free and safe for vegans either. Just try it. Spread it over your favourite bread or pasta dish. Serve it alongside lamb or flavour your favourite dips or pasta sauce. Nut and cheese free. A healthy pesto of 11 traditional and wild herbs plus olive oil, apple cider vinegar, garlic and NZ sea salt. This product has been a runaway success in our Napier store and now you can enjoy it online! It's green and fresh and gorgeous.  Spread on crackers or grainy bread. Baste roast meats, coat fish, spoon over roast vegetables or blend with Avocado or plain yoghurt.
This product is Gluten Free & Dairy Free and contains no Nuts.
Recommended with our Butterflied Lamb Boneless Leg
100% Free Range and Organic NZ bred chicken.